Airport Awards $28.488 Million Concourse A Extension Project
Richmond International Airport, VA – September 25, 2018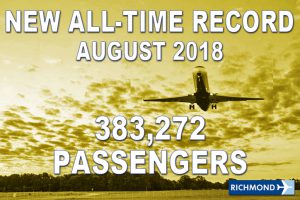 At its monthly meeting, the Capital Region Airport Commission today awarded the Concourse A Extension Project of Richmond International Airport (RIC) to W.M. Schlosser Company, Inc., of Hyattsville, Maryland. The company's bid of $28,488,000 was within two percent of the cost estimate for the project.
"The Concourse A Extension project award is timely as the Airport has seen a consistent increase in flights and passenger traffic since 2013," said Airport Commission chairman Aubrey M. Stanley. "While we can clearly meet immediate needs, the Commission intends to make critical infrastructure available ahead of demand so that Richmond International Airport can continue to meet growing needs of Virginia's Capital Region."
Concourse A Expansion Facts:
Upon completion, the project will add six additional gates to Concourse A, bringing the Airport's total gate count to 28.
While the existing terminal meets current needs, the Airport has recognized demand for more overnight aircraft parking positions. The six-gate expansion of Concourse A will create space for future airline growth.
The project creates 60,000 square feet of space for airline operations, customer hold rooms, retail and restaurant locations, office space for tenants, and new public restrooms.
The project will be funded by passenger facility charges (PFCs) and local (Commission) funds.
A notice to proceed is expected to be issued in mid-November, with Phase I civil construction (utilities) underway shortly thereafter.
The estimated duration of the project is 450 calendar days (15 months), resulting in a completion target of March 2020.
Record-Setting Passenger Activity in August
Richmond International Airport reports a new, all-time monthly passenger traffic record of 383,272 travelers in August 2018. This is the fourth occasion since last October that an all-time monthly record has been reported by RIC.
For August 2018, RIC notes a 13.6 percent increase in total passenger traffic versus the same period a year ago. Delta Air Lines led the market with a 34.6 percent share of passengers, followed by American and United. Four incumbent airlines, United (+27.0 percent), Delta (+13.1 percent), American, and Southwest, reported growth from the same period a year ago. Spirit, a new-entrant carrier with service to Orlando and Ft. Lauderdale, captured a four percent share of passenger traffic. Additionally, Allegiant, offering twice-weekly service to three cities, reported a 56 percent increase in its passenger count with the addition of new service to Nashville (BNA).
The Airport has reported eleven consecutive record passenger traffic months. With the August report, all monthly passenger records, many previously dating back to 2007 and 2008, have been surpassed in the last two years. For the calendar year to date, passenger traffic has increased 10.7 percent.
In addition to passenger traffic gains, the airport saw August increases in other key performance areas:
Total cargo, the sum of freight and mail, increased 9.8 percent to 12.95 million pounds.
Aircraft operations increased 7.8 percent from a year ago, with general aviation (+21.7%), air carrier, and air taxi operations all reporting growth.
See RIC's monthly stat recap here.
Financials
August operating revenues totaled $4.5 million, greater than budget by $495 thousand or 13 percent, with gains in parking and concession revenue reporting higher than expected, primarily due to August's increased passenger traffic. For the month, operating expenses totaled $2.1 million, less than budget by $60 thousand or three percent. The operating expenses decrease is largely attributable professional services, parking, and other operating expenses.
Other Matters
The just-completed NASCAR Race Week, featuring playoff races in the NASCAR Xfinity Series and the Monster Energy NASCAR Cup Series at Richmond Raceway, saw a passenger increase of nearly 32 percent over the 2017 September race week. Sunday, September 23, may have been the busiest outbound day in the Airport's history, as nearly 8,000 travelers departed from RIC.
The Airport Commission approved lease amendments with Dominion Energy Services and the U.S Department of Justice.
About Richmond International Airport (RIC)
Richmond International Airport (RIC) is one of the most modern airports in the eastern United States. Seven major airlines, Allegiant, American, Delta, JetBlue, Southwest, Spirit, and United, offer nonstop flights to major domestic destinations and connecting options to points around the world. Annually, the Airport welcomes more than 3.8 million passengers. The activities of RIC and its tenants create nearly 16,000 jobs and $2.1 billion in economic activity each year. To learn more, visit flyrichmond.com.
###
Contact:
Troy M. Bell, C.M.
Director – Marketing & Air Service Development/PIO
tbell@flyrichmond.com