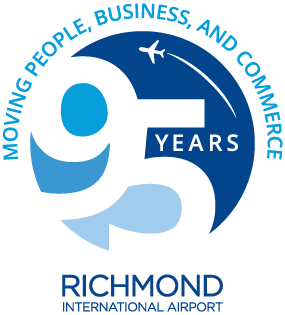 It's been a busy five years since we celebrated a major anniversary. In that time we've grown even prouder of contributing to Richmond's history and its future.
RIC welcomed new airlines that made our region more accessible while connecting us to exciting destinations. We saw a change of command for the first time since 2000 with the installation of a new CEO. Through the challenges of a pandemic, we rose to the occasion by achieving GBAC Star accreditation to continue to protect the health and safety of our passengers and employees. And we recommitted ourselves to efforts in sustainability.
Along the way, we set a record-high annual air cargo volume of 180 million pounds. And we continue to generation nearly 16,000 jobs and contribute annual economic activity of nearly $2.1 billion for the region.
RIC is proud of our position as the gateway to our region and the positive impact we continue to make in the community where we live and work. Here's to another 95 years of achievement, progress, and service.
The Best Little Big Airport You'll Ever Visit
It's hard to believe, but we've been the gateway to Virginia's Capital Region since 1927. Our central location attracts more than 3 million friends, family members and business visitors traveling to and from Fredericksburg, Williamsburg, Washington D.C., Charlottesville, Virginia Beach, and points to the east and west each year.
If it's been a while since you traveled through Richmond, you may not recognize us. Our $300 million renovation was designed to make your experience as convenient and stress free as possible. Entering and parking at the airport have never been easier, and our terminal has been transformed into a sleek, modern space with additional gates and ticketing counters.
It's been said we've successfully balanced the sophistication of a large airport with the charm and convenience of a smaller one. We hope you'll agree.
Ready to go? RIC is simply the most convenient and hassle-free option in the region.
The Airport's vision: Moving people, business, and commerce to advance the Richmond region.
The Airport's mission: RIC seeks to provide all customers with an exceptional experience through convenience, innovation, and excellence.
In pursuit of this mission, the Commission recognizes the importance of providing choices for the traveling public by supporting competition among its nine airlines: Allegiant, American Airlines, Breeze Airways, Delta Air Lines, JetBlue Airways, Southwest Airlines, Spirit Airlines, Sun Country Airlines, and United Airlines. The success of each of these airlines is invaluable to providing a high-quality and competitive air service marketplace for the citizens of Central Virginia.
Efforts to encourage competition over the past decade have resulted in a decrease in fare premiums and an increase in quality and frequency of service. Competition has also led to an increase of roughly one million passengers traveling through the Richmond International Airport, including travelers who previously drove to other airports to take advantage of lower fares. This increase in passengers, coupled with significant savings on ticket costs, has resulted in an increase in local spending and injected millions of additional dollars into the region's economy.
In order to ensure that these airlines remain in the Central Virginia market and to sustain competition, the Commission strongly encourages ridership from Richmond Region travelers on all nine airlines. Competitive air service provides passengers with more choices of carriers to more destinations at lower fares and creates a marketplace in which all airlines can succeed.
2023 Environmental, Social, and Governance (ESG) report
Welcome to the 2023 Environmental, Social, and Governance (ESG) report for the Capital Region Airport Commission, owner and operator of Richmond International Airport (RIC).
The foundation of our work – as the Commission and its employees – is and always has been "Service to Others." As we guide RIC towards greater equity, inclusion, and social responsibility, we undertook this initial Environmental, Social, and Governance (ESG) report to examine our performance, risks, and opportunities around social, environmental, and governance issues. It will be used as a baseline for identifying opportunities to manage ESG risks and to advance responsible initiatives.
We developed this report using an impact materiality approach, engaging a broad group of stakeholders to provide information and data. We have undertaken several initiatives to improve our positive impacts on our environment, staff, stakeholders, and community to become more sustainable and resilient. Fiscal year 2022 data is used for the statistics and information found throughout this report.
The 2023 ESG report for RIC may be accessed here.
Our central location within Virginia and the mid-Atlantic region attracts over three million travelers each year, enough to keep our "Open V" runway configuration in a steadily busy state. The airport has three asphalt-grooved runways to accommodate traffic, with the longest runway measuring 9,003 feet in length by 150 feet in width.
While we typically handle about 105,000 operations annually (landings/takeoffs), the airport has the capacity to accommodate about 225,000 operations in its current configuration.
Interested in more field information? Take a look at our RIC FAA Airport Diagram or the FAA Form 5010 Master Record Search.
For an FAA listing of current NOTAMs, go here.
| | |
| --- | --- |
| Latitude: | 37-30-18.6000 N (estimated) |
| Longitude: | 77-19-10.8000 W |
| Elevation: | 167' |
| Runway Lights: | 16-34 HIRL CL, TDZ; 7-25 HIRL; 2-20 HIRL |
| Air Traffic Control: | Yes |
| Rotating Beacon: | Yes |
| UNICOM ATIS: | 122.950 |
| Richmond Tower: | 119.15 |
| Ground Control: | 121.1 |
| Location: | 6 miles East of Richmond |
| Service Volume Capacity: | 225,000 |
| Current Annual Operations: | 101,000 |
| Maintenance: | Major AF & PP |
| Telephone: | 804-226-3000 |
| Hours of Operation: | 24 hours |
| Web site: | http://23.21.7.235 |
| Operators: | Richmond Jet Center: 804-226-7200, http://www.ricjet.com/; Aero Industries: 804-222-7211, http://www.aeroind.com/; Million Air: 804-222-3700, http://www.millionair-richmond.com/; Helo Air: http://www.heloair.com/ |
| US Customs: | Contact Brett Marshall, Port Director, at 804-226-9675. |
| FAA FSDO: | 5707 Huntsman Road, Suite 100, Richmond, Virginia 23250-2415 804-222-7494 |
| Remarks: | Noise Abatement Procedures as directed by ATC; no practice landings 2200-0700; ATC clearance required for pushback onto movement areas; bird activity in view of all runways and taxiways and in view of airport; FIS facility for full international flight clearance by pre-arrangement with airport and U.S. Customs. |
| RIC ASOS: | 804-236-1091 |
The Annual Comprehensive Financial Report (ACFR) is the annual audited financial report issued by the Capital Region Airport Commission that includes audited financial information as well as unaudited statistical data. The audited financial section includes management discussion and analysis, auditors' report and the financial reports for the fiscal year. The statistical section includes airline market share, enplanement trends and historical airline activity reports, as well as selected statistical data about the Greater Richmond Region.
For more than a decade, the Commission's Finance Department has annually received a Certificate of Achievement for Excellence in Financial Reporting from the Government Finance Officers Association of the United States.
Richmond International Airport is one of the busiest air cargo facilities in the nation. In FY2021, RIC handled more than 180 million pounds of cargo - an annual record -  via dedicated cargo carriers like Amazon Air, DHL, Federal Express (FedEx) and United Parcel Service (UPS). These airlines offer a number of shipping, receiving, and storage options, including shipments of high-security and temperature-sensitive freight, fast international delivery, and overnight and priority deliveries for businesses and individuals.
RIC's cargo facilities currently offer 750,000 square feet of cargo apron and 142,000 square feet of air cargo warehouse space with direct apron access. Because of its central Mid-Atlantic location, cargo transit via RIC makes sense. Goods shipped out of the metropolitan Richmond area can reach 50 percent of the U.S. population within 24 hours. This translates into more efficient manufacturing, lower costs and improved expansion capabilities for area companies.
As a service to the public, Richmond International Airport provides monthly statistical data on passenger departures (enplanements) and arrivals (deplanements), cargo handled and aircraft operations.
Richmond International Airport Management Staff
Our staff is dedicated to ensuring your visit to Richmond International Airport is safe and enjoyable. Please see below a listing of senior staff:
Perry J. Miller, AAE, IAP, President & Chief Executive Officer
Basil O. Dosunmu, Chief Financial Officer
John Rutledge, Chief Operating Officer
Troy Bell, Director - Marketing & Air Service Development
Brad Christopher, Director - Maintenance
Uday Nethula, Human Capital Diversity Officer
Russ Peaden, Director - Properties & Concessions
Carol Gaddis, Director of Information Technology & Innovation
Regina Crockett, Interim Director of Finance
If you have a question or concern about the airport, please contact us.
Slide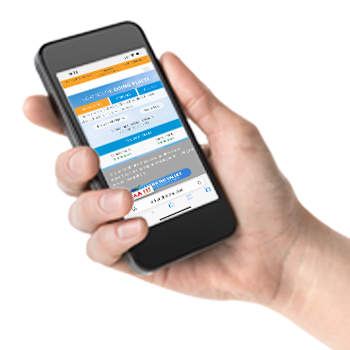 RIC activates a Queue
Management System, allowing
passengers the opportunity
to save time by accessing TSA
wait times in advance
Slide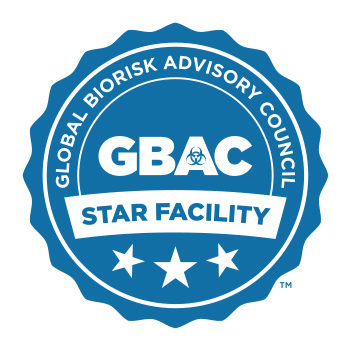 RIC continued to protect
the health and safety of its
passengers by becoming one of
the first 30 airports in the U.S.
– and the first in Virginia – to
be recognized by Global Biorisk
Advisory Council (GBAC) with
a STAR™ Facility Accreditation.
The program is the gold
standard for prepared facilities.
Slide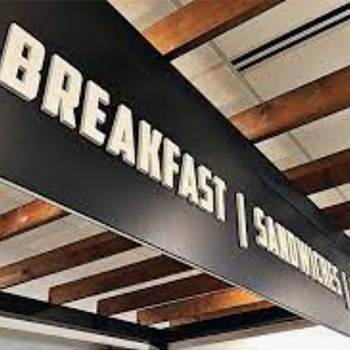 With the opening of the
Concourse A extension,
The Market on Broad
opens, shining a spotlight
on traditional Richmond
dishes by featuring locally
sourced ingredients
Slide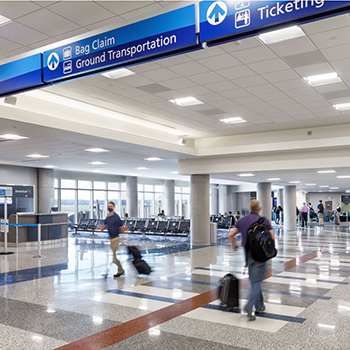 RIC extends Concourse A to
include six additional gates,
accommodating immediate
need for additional overnight
parking, and creating space for
new dining and retail concepts,
new restrooms, and expanded
office space for tenants.
Slide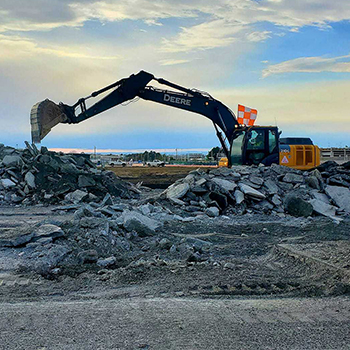 RIC continues to make
improvements to better serves
its passengers. The airport
completes the air carrier ramp
expansion at Concourse B, in
addition to adding a dedicated
two-lane de-icing pad, concrete
pavement, and spent aircraft
deicing fluid collection system
(Expected completion 2023)
Slide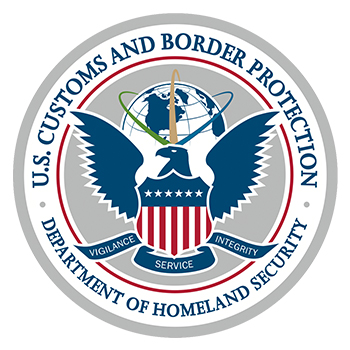 FAA Infrastructure Funding
awarded to renovate RIC federal
inspection services (FIS) facility to
meet U.S. Customs and Border
Protection service facility standards
for international travel processing.
The improvements will help
the airport accommodate more
passengers and opens the door to
welcoming international arrivals.
Slide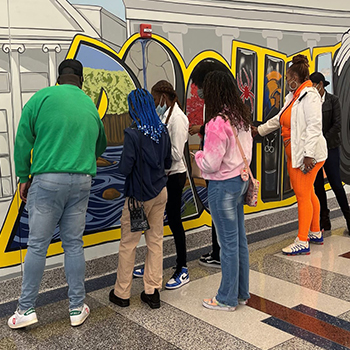 RIC unveils "Welcome
to Richmond" mural to
highlight area attractions,
boost regional tourism,
and connect to the
region we serve.
Slide
Airport tenants and RIC
collaborate to connect
people with their careers by
hosting the Airport Job Fair.
The event attracts more than
150 employee candidates.
Slide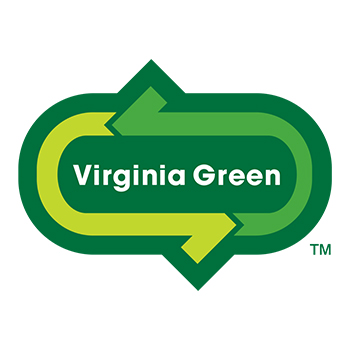 Airport receives Virginia
Green Travel Leader Award
for outstanding commitment
to sustainability and
contributions to green tourism.
Slide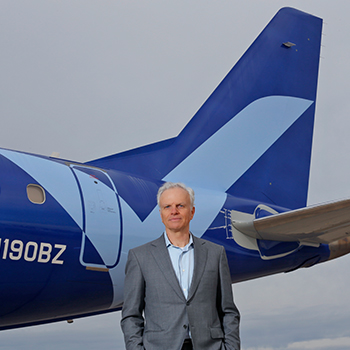 Breeze expands to Las
Vegas and San Francisco,
providing trans-continental
service for travelers to and
from Richmond.
Slide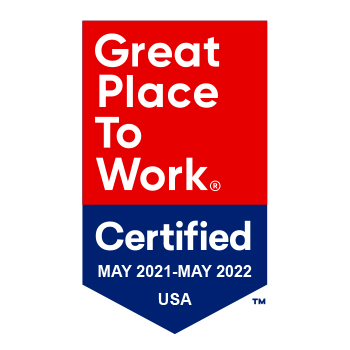 RIC certified by Great Place
to Work Program, the global
authority on workplace
culture, after Airport earns
outstanding scores in the
benchmarks of pride, respect,
camaraderie, and fairness.
Slide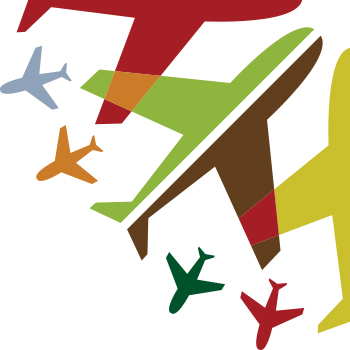 Capital Region Airport Commission hosts P.O.W.E.R.
Together Business Opportunities Forum to introduce small, disadvantaged, or woman owned businesses to airport buyers, concessionaires, and contractors
Slide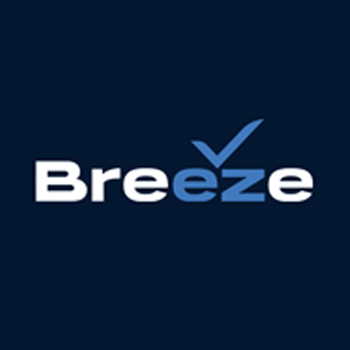 RIC chosen as a debut airport for "Seriously Nice" Breeze Airways, the new carrier from David Neeleman.
Slide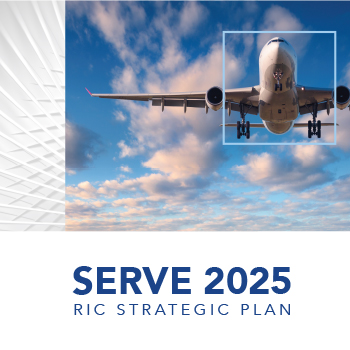 RIC develops first comprehensive strategic plan, Serve 2025, to focus on providing exceptional customer experience though convenience, innovation, and excellence.
Slide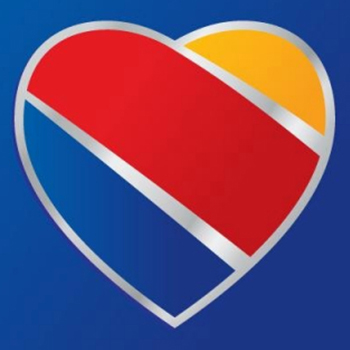 Southwest adds first-ever flights to Chicago Midway and Denver
Slide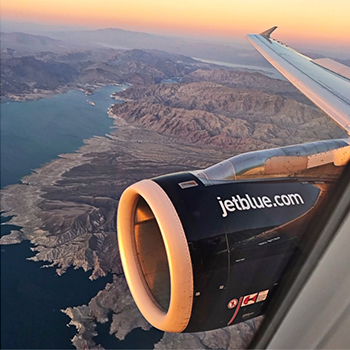 JetBlue tests Los Angeles and
Las Vegas service
Slide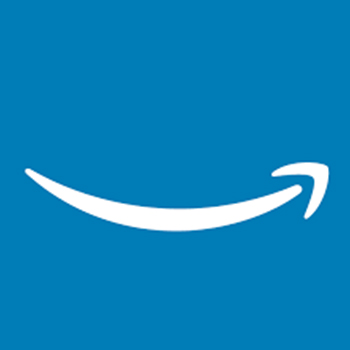 Region welcomes Amazon
Air gateway operations,
touching down at RIC and
making us one of more than
30 airports across the major
cargo airline's network
Slide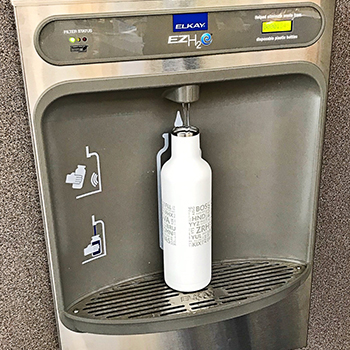 New water bottle stations
are installed, filling the
equivalent of 735,000
plastic bottles into reusable
containers in just three years
Slide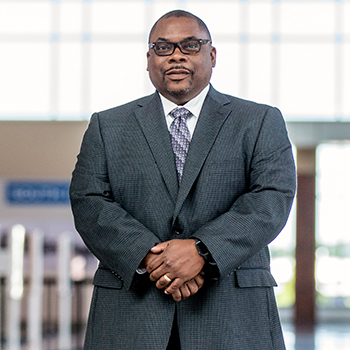 Capital Region Airport
Commission appoints Perry
J. Miller president and CEO
Slide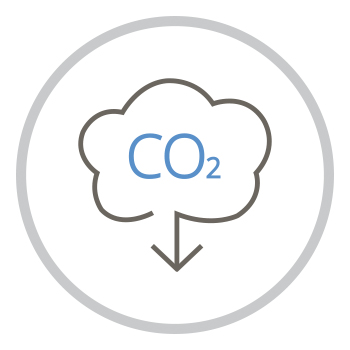 RIC receives the Most
Innovative Green Projects
Award in recognition of
environmentally sound
measures
Slide
Richmond becomes Spirit
Airlines' 62nd destination
as the airline launches
flights to Ft. Lauderdale
and Orlando.
Slide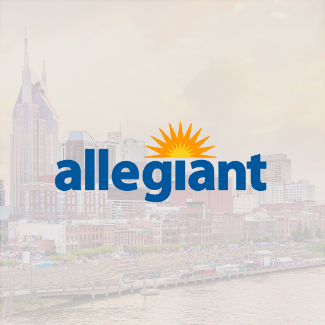 Allegiant Air added a third destination, Nashville, to its Richmond offerings.
Slide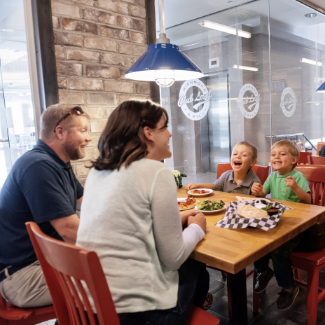 RIC prepared to break ground on a $28 million, six-gate extension of Concourse A. The extension will offer 60,000 square feet for airline operations, public use, and future retail and restaurant locations.
Slide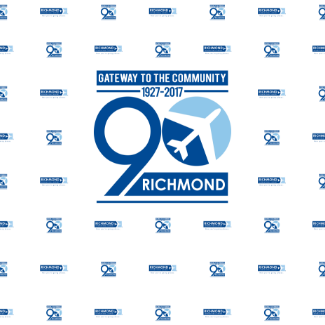 RIC marked its 90th anniversary. The airport began as a lightly developed, 100-acre parcel and now adds an annual economic impact of more than $2 billion to the Richmond region.
Slide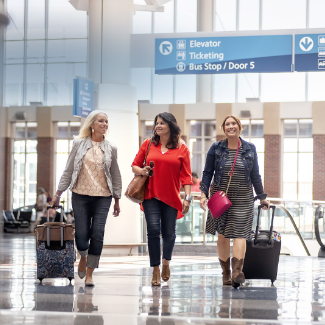 By the end of 2017, RIC welcomed more than 3.8 million passengers. The airport offers nonstop flights to major domestic destinations and connecting services to points around the globe.
Slide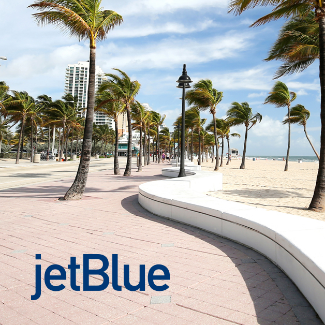 In June, JetBlue launched a second daily nonstop flight to Ft. Lauderdale. Since the airline's arrival in 2006, more than 3.6 million customers have traveled onboard the carrier from Richmond to Boston, Orlando, Ft. Lauderdale, and beyond.
Slide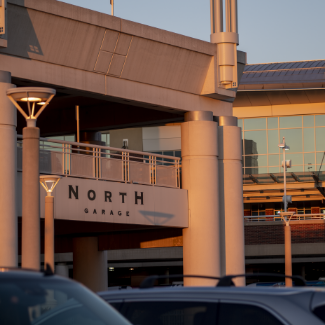 An expansion of the North Parking Garage was completed, adding 2,600 on-site parking spaces, bringing the total number to 10,000.
Slide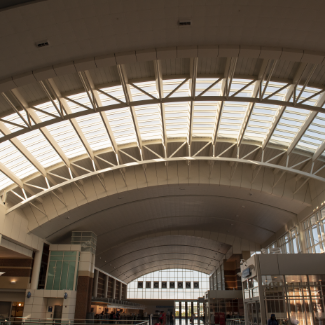 In June, a new business center opened in RIC's upper-level connector, offering travelers free Wi-Fi, workstations, and meeting room space. In addition, a USO center opened for U.S. Armed Forces active and reserve service members and their families.
Slide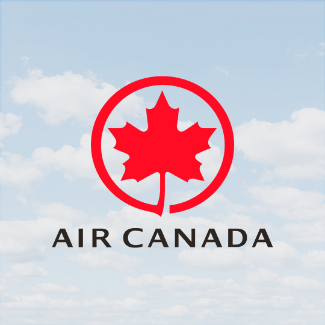 Air Canada began twice-daily service from Richmond to Toronto, and construction was completed on two Airport Drive roadway flyovers, improving the traffic flow to and from the airport.
Slide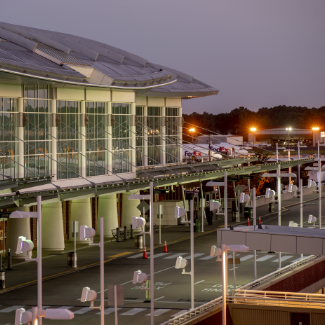 The airport completed the construction of a multimillion-dollar renovation that expanded the terminal building by 155,000 square feet, quadrupling the amount of useable floor space in the ticketing hall and baggage claim areas, doubling the space for security checkpoints, and doubling the outdoor curbside loading/unloading zones to help ease vehicle congestion.
Slide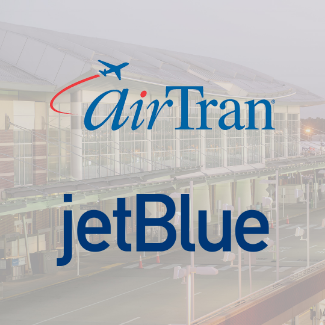 Over a nine-month span, RIC welcomed the arrival of AirTran Airways and JetBlue to Virginia's Capital Region, to the relief of travelers whose highest-ranking business desire had been more competitive airfares.
Slide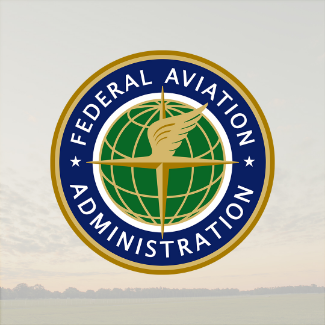 The Federal Aviation Administration (FAA) dedicated a new Air Traffic Control Tower at RIC. In attendance were Sen. John Warner, congressmen Bobby Scott and Randy Forbes, FAA Eastern Region Administrator Arlene Feldman, Deputy Secretary of Transportation Ralph Davis (Virginia), Capital Region Airport Commission members, and other dignitaries.
Slide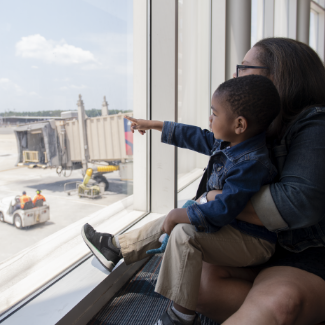 An expansion of Concourse B was completed, representing a 50% increase in gates. The airport completed several more projects, including the addition of 1,300 public parking spaces in Economy Lot A, the relocation of security checkpoints, and an extension of airport taxiways.
Slide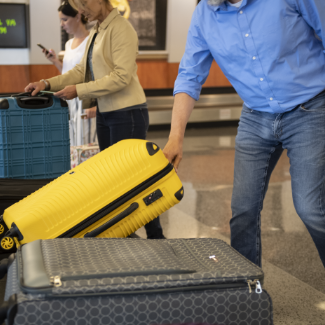 The terminal underwent a $5 million concourse expansion at Concourse A, increasing the number of gates to 14 and adding 8,700 square feet to the existing baggage claim area.
Slide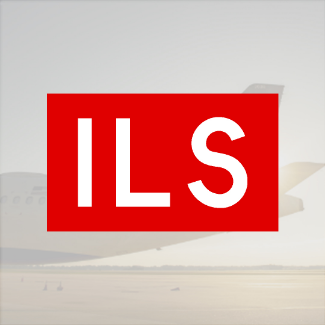 RIC became the world's first public airport to operate an advanced microwave landing system.
Slide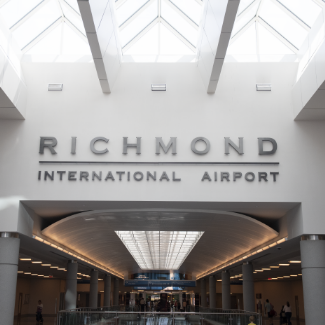 The airport was renamed Richmond International Airport (RIC).
Slide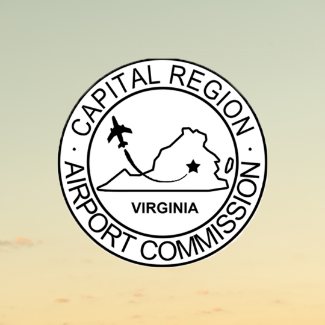 The Capital Region Airport Commission was created pursuant to Chapter 537 of the Acts of the 1975 General Assembly of the Commonwealth of Virginia.
95 Years of Service
We're proud to have been serving our region for 95 years. On October 15, 1927,
the airport was dedicated as Richard Evelyn Byrd Flying Field in recognition of Virginia-born naval officer, explorer, and aviator Richard E. Byrd.
A Partner in Growth
Always a vibrant city, our region is now the 45th largest metropolitan statistical area in the country with almost 1.3 million residents. We offer eight major carriers and nearly 150 daily flights to support visitors and residents alike.
*Historic photo of Broad Street at night: Dementi Studio
*Crowd in Richmond: Creative Commons Rosanne Case Richmond Folk Fest by bobistraveling is licensed under CC by 2
Thank You
Thank you, Richmond Region, for 95 wonderful years.
Champions of Diversity
We believe everyone deserves a voice in the conversation and a seat at the table. Thanks to our commitment to diversity, the Capital Region Airport Commission was recognized with a Metropolitan Business League of Excellence Award, and our President and CEO, Perry J. Miller, was named the Virginia Department of Aviation's Airport Manager of the Year.
Stewards of Our Environment
RIC has been a Certified Green Travel Partner since 2015. The title recognizes hotels, restaurants, and attractions committed to reducing energy and water usage, and increasing recycling measures.
Dedicated to Our Community
From food donations to Feed More to back-to-school supply drives, we do everything we can to give back to the community we serve.
Spreading Our Wings
With the extension of Concourse A, we're giving domestic and international travelers an even more exceptional experience. Now RIC offers two balanced concourses featuring a total of 28 gates.
Gateway to Our Region
In 2019, RIC set a new annual record of 4.38 million passengers. As we climb toward prepandemic travel levels, we are excited about serving current residents, welcoming past visitors, and greeting new travelers to our region.
*Richmond International Airport: Casey Templeton