Airport Minority Advisory Council Presents RIC CEO and President with Hall of Fame Award at Annual Conference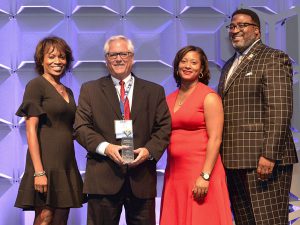 Richmond International Airport, VA – August 30, 2018
The Airport Minority Advisory Council (AMAC) recognized Jon E. Mathiasen, AAE, president and CEO of the Capital Region Airport Commission, with a Hall of Fame award at the Catalyst Awards luncheon at its 34th Annual Airport Business Diversity Conference in Seattle on Friday, August 24, 2018.
"AMAC salutes Jon for being a longstanding advocate for diversity and inclusion. Throughout his career he has demonstrated sustainable and profound contributions to the aviation industry," said Krystal J. Brumfield, president and CEO of AMAC. "Thank you for setting a high standard for other leaders in the industry to follow. Congratulations on a successful career!"
According to AMAC, the Hall of Fame award "honors an individual who has demonstrated sustainable and profound contributions to the aviation industry and exhibited a positive impact on diversity inclusion within the industry. This individual has provided continuous support of AMAC's mission and goals, as well as the growth and development of airport diversity. This award recognizes an individual within the industry who has been an outstanding spokesperson, educator, innovator and advocate for diversity inclusion in the workforce or small business participation in contracting."
"I am honored and truly humbled to receive this recognition. Diversity awareness and inclusion in contracting opportunities for capital projects, goods and services, and concessions have been high-priority objectives at Richmond International Airport (RIC) for many years," said Mathiasen.
The Airport Minority Advisory Council's mission is to promote the inclusion of minorities and women in contracting opportunities and professional development throughout the aviation and aerospace industry. Since 1984, AMAC has been at the forefront of nearly every national policy initiative impacting the participation of disadvantaged businesses in airport contracting. AMAC works consistently with congress, the federal government, aviation trade associations and others as a resource for information, education, and guidance on business and employment matters. For more information, please visit www.amac-org.com.
Richmond International Airport is one of the most modern and efficient airports in the eastern United States. Scheduled service from RIC offers nonstop flights to major domestic destinations and connecting options to points around the globe. In FY2018, RIC welcomed more than 3.8 million passengers. For more information, please visit flyrichmond.com.
###
Contact:
Troy M. Bell, C.M.
Director – Marketing & Air Service Development/PIO
tbell@flyrichmond.com