American Airlines Announces New York JFK Flights to Start in November
Year-'Round Service to Offer Three Daily Flights between Richmond and the Big Apple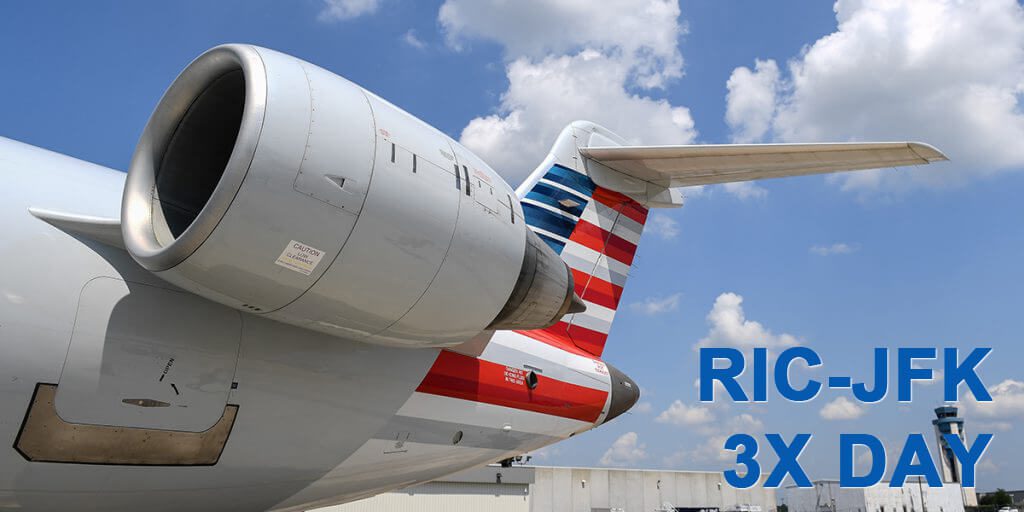 Richmond International Airport, VA (May 28, 2019) – Announcing enhancements to its upcoming winter schedule, American Airlines has added three daily flights between Richmond International Airport (RIC) and New York (JFK) starting November 21, 2019.
"Richmond is a welcome addition to our various non-stop options and a very important city in our growing destination portfolio for New Yorkers," said Jim Carter, Vice President of Sales, for American's Eastern Division.
The new JFK flights join American's existing service between Richmond and Charlotte (CLT), Chicago (ORD), Dallas-Fort Worth (DFW), Miami (MIA), New York LaGuardia (LGA), and Philadelphia (PHL). Tickets for all routes are available for purchase at www.aa.com.
"Richmond International Airport (RIC) welcomes new service from American Airlines," said Capital Region Airport Commission president and CEO Jon E. Mathiasen, AAE. "We're absolutely thrilled to have more American options to the Big Apple. New York is a high-demand destination for Virginia's Capital Region and JFK access with American not only gives us more ways to fly to New York, but it also opens up additional access to the West Coast and several top-tier European markets."
About Richmond International Airport (RIC)
Now you're going places with Richmond International Airport (RIC). Seven major airlines offer nonstop flights to major domestic destinations and connecting options to points around the world. The activities of RIC and its tenants create nearly 16,000 jobs and contribute $2.1 billion in economic activity annually to the Richmond region, according to the Virginia Department of Aviation. In 2018, the Airport welcomed more than four million passengers. For more information, please visit www.flyrichmond.com.
###
Contact:
Troy M. Bell, C.M.
Director – Marketing & Air Service Development/PIO
tbell@flyrichmond.com