Arrive at Least 90 Minutes before Departure. It Can Make All the Difference.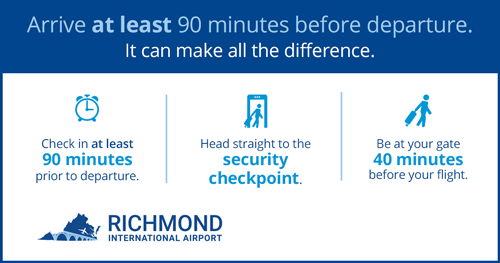 With vaccinations on the rise and COVID-19 cases going down, air travel is revving back up, and we couldn't be more thrilled to welcome travelers back to our Richmond International Airport (RIC) terminal.
The increase in the number of travelers makes it even more important to arrive at the terminal at least 90 minutes prior to your scheduled departure, head straight to security screening, and be at your gate 40 minutes before your flight.
With the increase in flights, airport wait times may approach or even exceed pre-pandemic levels. Airport workers are working hard to ensure public health and safety by following added travel compliance responsibilities, including a federally mandated mask requirement, so it's more important than ever for travelers to plan ahead.
As you book your next great escape or fly to see friends and loved ones, remember to take off with a plan. Here are a few tips that can help you travel like a pro:
Have your credentials ready. Spare yourself a frantic hunt. Have your IDs ready before you reach a TSA agent.
Bring a mask. Regardless of whether you've been vaccinated, mask mandates are still in place through September 13, so be sure to have a mask handy when you fly.
Wear slip-on shoes. Unless you're 75 or older, or are otherwise exempt, you will have to remove your shoes, so save yourself some time and wear a pair with no strings. Wearing socks is a great idea so you don't have to place your bare feet on the floor.
Minimize jewelry and accessories. Save the bling for your actual vacation. This way, you won't have to take it on and off before you board.
Be mindful of 3-1-1 liquid/gel/aerosol restrictions. You can bring one quart-sized bag of liquids, aerosols, gels, creams, and pastes in 3.4 oz (100 milliliter) containers. For more details, visit the TSA site.
Keep your firearms in your checked bags. Firearms are allowed only in checked baggage and must be unloaded; placed in a locked, hard-sided container; and declared to your airline at check-in. Violating this requirement could result in costly federal fines and even arrest under Virginia law.
By keeping these pro tips top of mind, you can find your happiness upon arrival. We can't wait to see you again at RIC.