"Best-Ever" April as Traffic Recovery Continues at RIC
April 2023 Passenger Total Represents Second-Best Month Ever at RIC, Surpasses Previous April Record Established in 2019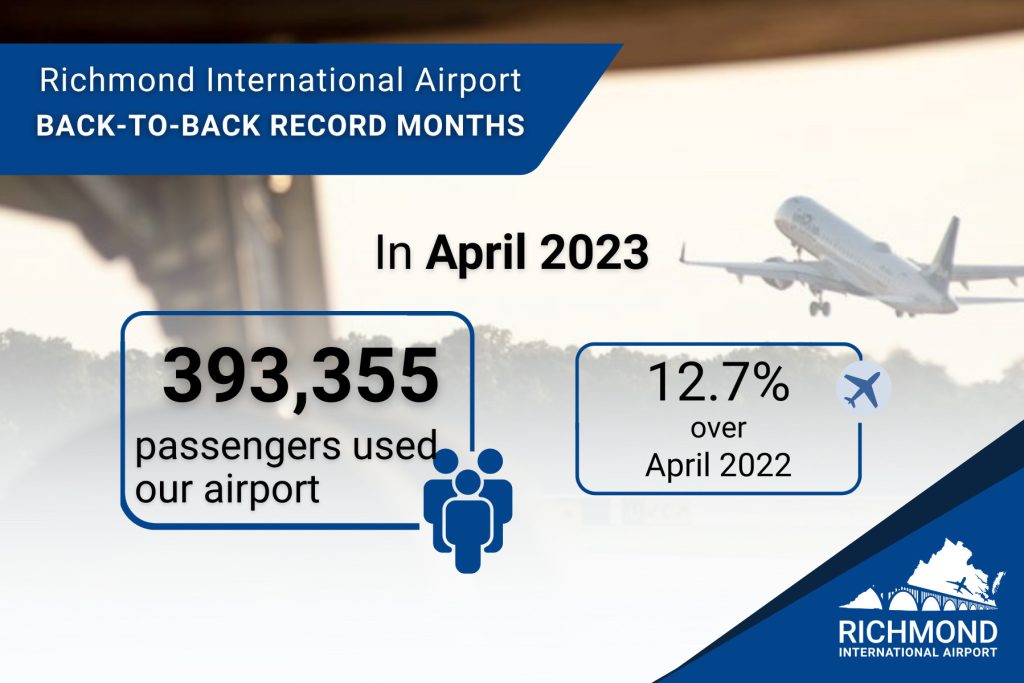 Richmond International Airport, VA – June 2, 2023
At this week's meeting of the Capital Region Airport Commission, Richmond International Airport (RIC) reported April passenger traffic of 393,355, topping the previous April record of 372,025 established in 2019. Not only did RIC set a new mark for April, but the total passenger count for the month represents the second highest ever at the Airport.
For the first 10 months of fiscal year 2023 (FY23), passenger traffic increased 13.7 percent year over year, a gain of more than 425,000 passengers.
For more info, visit monthly statistics on the web.
Air Service Notes
May's inaugural route celebrations included Las Vegas (Spirit), Los Angeles, New York-Islip, and Cincinnati (all Breeze), and Minneapolis/St. Paul (Sun Country). Seasonal routes Providence and Jacksonville, both offered by Breeze, returned for the summer.
In June, Delta will restart daily Minneapolis/St. Paul (MSP) service.
Other Matters
Jack Berry, president and CEO of Richmond Region Tourism, presented a regional tourism update and provided a sneak peak of the new "Speaks for Itself" awareness campaign launching this week.
The Commission approved a $61.7 million operating budget for the fiscal year beginning July 1, 2023, and ending on June 30, 2024 (FY24).
About Richmond International Airport (RIC)
Richmond International Airport's vision is to move people, business, and commerce to advance the Richmond region. Nine passenger airlines and four dedicated cargo carriers offer domestic service from Richmond International Airport (RIC) with connecting options to points around the globe. According to the Commonwealth of Virginia, Airport activities create nearly 16,000 jobs and contribute about $2.1 billion in economic activity annually to Virginia's Capital Region. To learn more, please visit RIC on the web, Twitter, Facebook, Instagram, or LinkedIn.
###
Contact:
Troy M. Bell, C.M.
Director – Marketing & Air Service Development/PIO
tbell@flyrichmond.com