Breeze Adding Flights to Fort Myers
New Seasonal Nonstops Slated to Start November 15th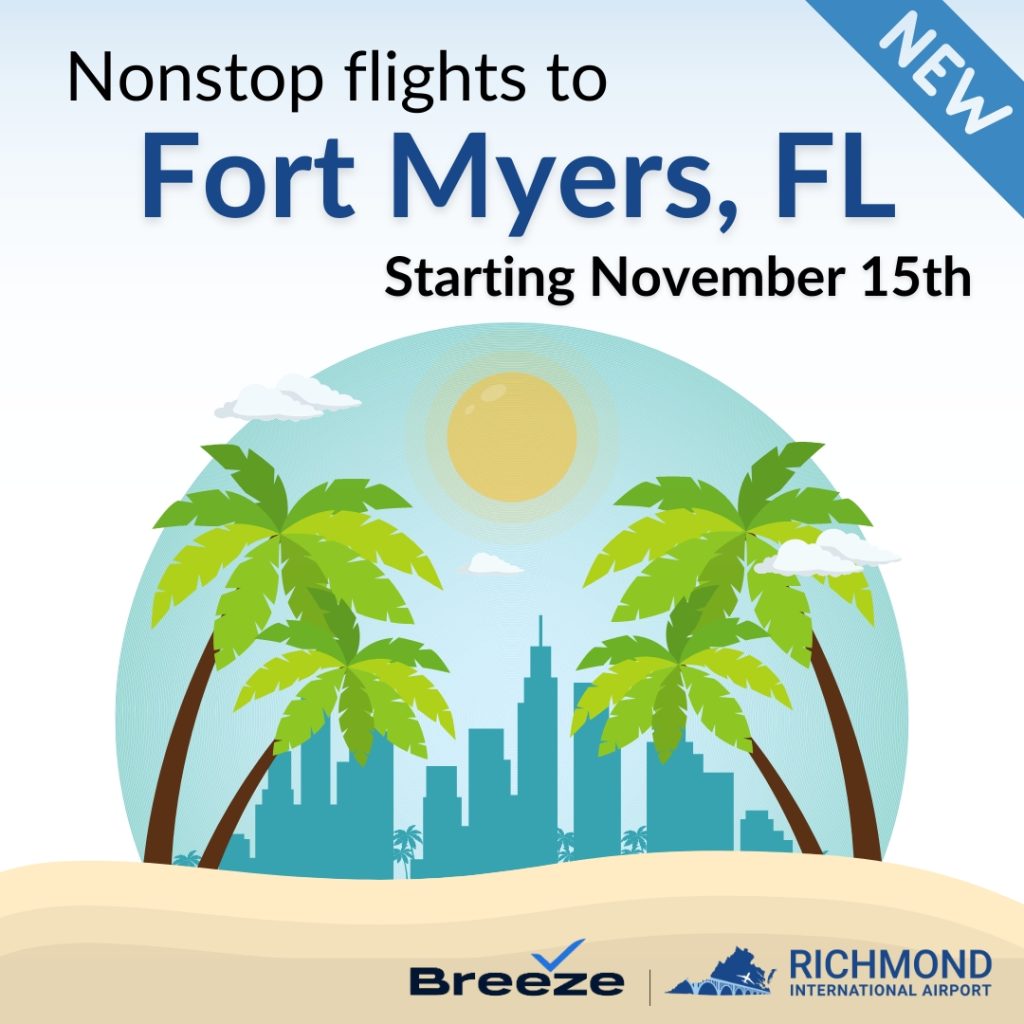 Richmond, VA (July 18, 2023) – Breeze Airways announced today that it will be adding the 13th nonstop route from Richmond, with seasonal service to Fort Myers, FL. The new route will begin November 15 with service on Wednesdays and Saturdays.
"With fall and winter quickly approaching, we know many people will be looking to travel to the great beaches and warmer weather Fort Myers has to offer," said David Neeleman, Founder and CEO of Breeze Airways. "That is why we have added this new route from RIC and we hope that it will allow our Guests to more easily and affordably travel to and from Southwest Florida."
From Richmond, Breeze also offers nonstop service to Charleston, SC; Cincinnati, OH; Hartford, CT; Jacksonville, FL; Las Vegas, NV; Islip-Long Island, NY; Los Angeles, CA; New Orleans, LA; Phoenix, AZ; Providence, RI; San Francisco, CA; and Tampa, FL.
"With this announcement of Winter/Spring seasonal nonstop flights to Ft. Myers, FL, Richmond International Airport is excited to see the next chapter in the Breeze Airways success story," said Perry J. Miller, A.A.E., I.A.P., president and CEO for the Capital Region Airport Commission. "We welcome this new connection between the Richmond region and Florida's Gulf Coast and applaud its start date ahead of the Thanksgiving holiday."
For more information about Richmond-Ft. Myers flights, please visit Breeze's website.
Breeze originally launched service from Richmond on July 8, 2021.
About Richmond International Airport
Richmond International Airport's vision is to move people, business, and commerce to advance the Richmond region. Nine passenger airlines and four dedicated cargo carriers offer domestic service from Richmond International Airport (RIC) with connecting options to points around the globe. According to the Commonwealth of Virginia, Airport activities create nearly 16,000 jobs and contribute about $2.1 billion in economic activity annually to Virginia's Capital Region. To learn more, please visit RIC on the web, Twitter, Facebook, Instagram, or LinkedIn.