Capital Region Airport Commission Names Perry Miller President and CEO of Richmond International Airport
Veteran Aviation Executive Selected as Jon Mathiasen Departs for Retirement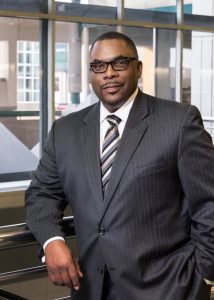 Richmond International Airport, VA (July 9, 2019) – The Capital Region Airport Commission announced today that its board has appointed Perry J. Miller, M.S., A.A.E., IAP as president and CEO effective August 19, 2019. Miller succeeds Jon Mathiasen, A.A.E., who served as president and CEO since 2000 and announced his plans to retire last year.
"On behalf of the board of commissioners, I am pleased to introduce Perry Miller as our new CEO," states Patricia O'Bannon, Capital Region Airport Commission chair. "He brings extensive airport management expertise to RIC, which he has gained during a life-long career where he has excelled in a wide range of airport management positions."
Miller is currently the interim CEO of the Jackson Municipal Airport Authority in Jackson, MS, where he also served as the chief operating officer. He is responsible for overall fiscal management, operations, administration and economic development Initiatives. Previously, he worked for more than 25 years in various management positions with William P. Hobby Airport, George Bush Intercontinental Airport, and Ellington Field, all of which are a part of the Houston Airport System.
"I am delighted to be a part of the Richmond International Airport leadership team," adds Miller, "and I look forward to working with the board of commissioners and the staff. The airport has established itself as a vital economic driver for the Central Virginia Region, while earning a reputation across the nation for its fiscal management and the high quality traveler experience. Those assets provide an invaluable foundation for RIC to serve the continuing growth of the region and the Commonwealth of Virginia."
Miller is a two-time graduate of Texas Southern University, earning a B.S. in airway science management and a M.S. in transportation planning and management, and he has a Ph.D. ABD in management from Walden University. In addition, he earned the coveted International Airport Professional (IAP) designation from Airports Council International (ACI) and is an accredited member of the American Association of Airport Executives (AAAE), where he is also a member of the AAAE board of directors.
The executive search process was conducted by Aviation Career Services, a nationwide aviation human capital management firm based in Chicago, IL.
About Richmond International Airport (RIC)
Seven major airlines offer nonstop flights from Richmond International Airport (RIC) to major domestic destinations and connecting options to points around the world. The activities of RIC and its tenants create nearly 16,000 jobs and contribute $2.1 billion in economic activity annually to the Richmond region, according to the Virginia Department of Aviation. Annually, RIC welcomes more than four million passengers. For more information, please visit flyrichmond.com.
###
Contact:
Troy M. Bell, C.M.
Director – Marketing & Air Service Development/PIO