Commission Wins 2023 Virginia Green Award
Owner/Operator of Richmond International Airport (RIC) Recognized for Continued Commitment to Environmental Stewardship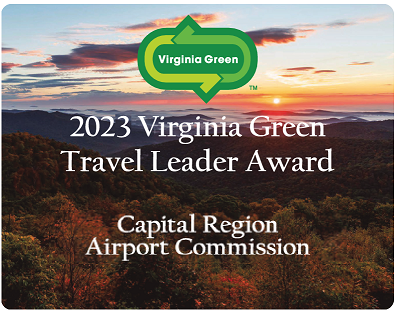 Richmond International Airport, VA – March 28, 2023 – At the 10th Annual Virginia Green Travel Conference held earlier this month in Virginia Beach, the Capital Region Airport Commission, owner and operator of Richmond International Airport (RIC), was among ten organizations recognized with a Virginia Green Travel Leader Award for its continued commitment to environmental stewardship. The Airport has been a certified Virginia Green Travel Partner since 2015.
"Richmond International Airport (RIC) proudly supports green tourism in the Richmond Region and wherever guests may visit across the Commonwealth," said Perry J. Miller, A.A.E., I.A.P., president and CEO of the Capital Region Airport Commission. "We're in this for the long-haul and continuously evaluate means to reduce our environmental impact."
More than 1,200 businesses and partner organizations have voluntarily certified their green commitments through Virginia Green.
"Conserving natural resources, engaging customers, and working to increase sustainable tourism business in Virginia, the Virginia Green Travel Certification program works to support and promote those businesses that are committed to reducing the environmental impacts of their operation," says Tom Griffin, the Executive Director of the Virginia Green Travel Alliance. "We are proud to recognize these businesses as they are true partner in our efforts to promote sustainable tourism in Virginia!"
The Virginia Green Travel program is run through a partnership between the Virginia Department of Environmental Quality, the Virginia Tourism Corporation, Virginia State Parks, the Virginia Restaurant, Lodging & Travel Association, and the Virginia Green Travel Alliance. The program encourages green practices in all sectors of Virginia's tourism industry.
Examples of On-Going Sustainability Measures at RIC:
The recent introduction of 75 recycling containers in and around the public areas of the terminal complex to encourage traveler participation.
In 2022, RIC recycled more than 33 tons of material.
Reducing waste: Operations at RIC produced about 26 tons of waste in 2022, an 11% decrease compared to 2021 despite passenger traffic increasing 27% year over year.
Compressed Natural Gas (CNG) EasyPark parking shuttles have been in use at RIC since 2013, replacing aging diesels; the Airport has also added CNG-powered maintenance vehicles. The shuttles alone have been estimated to eliminate more than 20 tons of tailpipe emissions each year and effectively reduce ambient noise in the vicinity of the terminal.
The airport has replaced light-duty maintenance vehicles with electric carts for use in airport grounds and landscaping applications.
With new construction projects, the Airport improves its green space with the introduction of attractive and low-maintenance landscaping concepts
RIC built and maintains a 246-acre wetlands facility in nearby New Kent County to serve as compensatory mitigation for airport development projects.
An airport-constructed Storm Water Management Facility on Beulah Road benefits RIC and nearby areas of Eastern Henrico County by reducing sediment runoff to the White Oak Swamp Creek, a tributary of the James River.
Installing water bottle filling stations in the terminal have eliminated the use of more than 500,000 disposable plastic bottles since being introduced in 2020.
Wide use of building management, mechanical, and lighting monitor systems and controls in the terminal and the airport-owned Massey building.
Sensors on every urinal, toilet, and sink trigger auto flush/start/stop use and contribute to water conservation in public areas of the terminal.
Energy-efficient glass is used in the atrium, both concourses, and the ticketing hall.
Installation of energy-efficient white thermoplastic polyolefin (TPO) membrane roofing to reflect heat and cools roofs.
Changeover to LED lights on runways, taxiways, and portions of the terminal (292 lights thus far in an ongoing project) has reduced energy consumption and provided improved lighting conditions.
The automotive maintenance shop's conservation practices include collection of used oils, antifreeze, and metals for third-party recyclers, use of low-CFC sprays for cleaning (brakes and carburetors), and installation of new energy-efficient lighting systems in work areas.
Supporting Resources
The Virginia Tourism Corporation promotes the certified Virginia Green program partners and encourages visitors to plan their green vacations in Virginia.
About Richmond International Airport (RIC)
Richmond International Airport's vision is to move people, business, and commerce to advance the Richmond region. Nine passenger airlines and four dedicated cargo carriers offer domestic service from Richmond International Airport (RIC) with connecting options to points around the globe. According to the Commonwealth of Virginia, Airport activities create nearly 16,000 jobs and contribute about $2.1 billion in economic activity annually to Virginia's Capital Region. To learn more, please visit RIC on the web, Twitter, Facebook, Instagram, or LinkedIn.
###
Contact Information
Troy M. Bell, C.M.
Director – Marketing & Air Service Development/PIO
Richmond International Airport
(804) 226-3022
tbell@flyrichmond.com