Despite Nor'easters, RIC Sets New March Record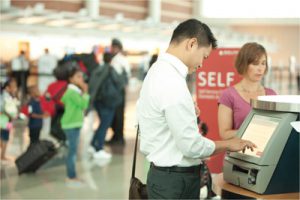 Richmond International Airport, VA (April 26, 2018)

For the sixth consecutive month, Richmond International Airport (RIC) reports a new monthly record as the 324,714 travelers transiting the facility in March 2018 topped the previous mark of 307,968 set in March 2008.

"Despite the waves of nor'easters affecting top destinations like Boston and New York, airlines at Richmond International Airport carried a record number of passengers in March," said Capital Region Airport Commission chairman Aubrey M. "Bucky" Stanley. "The business climate in the Richmond region is healthy, demand for tickets strong, and airlines have been steadily increasing their seat supply in Central Virginia."

Passenger Traffic
For March 2018, RIC passenger counts rose 8.9 percent compared to the same period a year ago. Delta was RIC's market share leader with 35.2 percent of all passenger traffic, followed by American and United. In terms of year-over-year growth, all incumbent air carriers reported growth during the month. United (+14.2%) and JetBlue (+10.7%) reported the largest year-over-year gains.

For the first nine months of FY2018, passenger traffic is up 3.8 percent.

Cargo
Total cargo, measured as a sum of freight and mail, increased 1.33 percent in March over the same period last year to 12.0 million pounds.

Operations
Likewise, aircraft operations saw a 4.8 percent increase during the month, with the air carrier operations segment showing a 15.5 percent increase in February. For fiscal year 2018, aircraft operations are up 5.7 percent.

View the monthly aviation summary.

Air Service Notes
Spirit Airlines launched daily Richmond-Orlando (MCO) and Richmond-Ft. Lauderdale (FLL) service on March 15, 2018.
Allegiant will start seasonal twice-weekly nonstop service from Richmond to Nashville (BNA) on June 14, 2018.
United is adding a second daily Denver (DEN) departure, starting in June, with flights departing RIC in the morning and again in the afternoon. United launched service to Denver from Richmond in April 2016.
JetBlue Airways will upgauge its twice-daily Orlando (MCO) flights to mainline Airbus equipment for the summer. The route has traditionally been served by 100-seat Embraer E190s.
RIC has reported passenger traffic growth in 44 of the last 49 months.
Financials
Through March, fiscal year-to-date (the Commission's fiscal year runs from July through June) operating revenues totaled $34.6 million, greater than budget by $759 thousand (3%), with gains in parking and concession revenue reporting higher than expected in March. Operating expenses for the same period amounted to $18.3 million, less than budget by $391 thousand (2%).
Additional Matters
Additional items discussed at the monthly Commission meeting included:
Chairman Stanley formed a Nominating Committee to provide a slate of officer candidates to be reviewed at the next Commission meeting on May 29, 2018. The Committee will be led by Robert F. Norfleet, Jr., a Member appointed by the city of Richmond.
The Commission authorized the CEO to execute a lease agreement with ExpressJet Airlines, Inc., for a maintenance facility at the Hawthorne Hangar. ExpressJet has occupied the facility since 2013. The new agreement will have an initial two-year term with three one-year renewals.
A new agreement with Branch Banking and Trust Co. (BB&T) to lease existing space in the main terminal was authorized by the Commission for an initial two-year term with four two-year renewal options.
About Richmond International Airport (RIC)
Richmond International Airport (RIC) is one of the most modern and well-equipped airports in the eastern United States. Scheduled service from RIC offers nonstop flights to major domestic destinations and connecting options to points around the globe. Annually, RIC welcomes more than 3.6 million passengers. For more information, please visit flyrichmond.com.
###
Contact:
Troy M. Bell, C.M.
Director – Marketing & Air Service Development/PIO
tbell@flyrichmond.com