Don't Fly by the Seat of Your Pants. Arrive at Least 2 Hours Prior to Departure.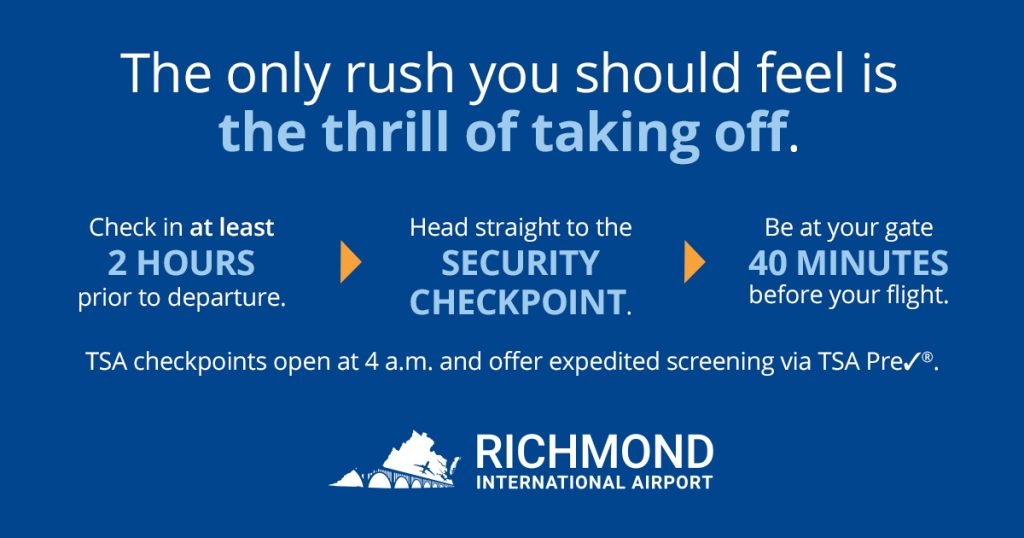 Air travel has once again taken off, and Richmond International Airport (RIC) is thrilled to welcome passengers in our new role as the Most Efficient Airport in North America.
To help ensure all our passengers have an excellent travel experience, RIC encourages you to arrive at the terminal at least two hours prior to your scheduled departure, head straight to security screening, and be at your gate 40 minutes before your flight. This summer, the TSA expects air travel to soar above pre-pandemic levels – possibly breaking transportation records – and this is a great way to get your trip started on a high note.
In addition, stick to this dependable flight plan:
Have your credentials ready. Spare yourself a frantic hunt. Have your IDs ready before you reach a TSA agent. Checkpoints open at 4:00 AM for your convenience.
Masks are optional. Federal law no longer mandates passengers wear masks on domestic flights. However, the Centers for Disease Control and Prevention (CDC) continues to recommend that everyone age two and older wear masks at transportation hubs. RIC understands that this is a personal decision, and we urge our customers to make the choice that is right for them.
Wear slip-on shoes. Unless you're 75 or older or are otherwise exempt, you will have to remove your shoes, so save yourself some time and wear a pair with no strings. Wearing socks is a great idea, so you don't have to place your bare feet on the floor.
Minimize jewelry and accessories. Save the bling for your actual vacation. This way, you won't have to take it on and off before you board.
Be mindful of 3-1-1 liquid/gel/aerosol restrictions. You can bring one quart-sized bag of liquids, aerosols, gels, creams, and pastes in 3.4 ounces (100 milliliters) containers. For more details, visit the TSA site.
Keep your firearms in your checked bags. Firearms are allowed only in checked baggage and must be unloaded, placed in a locked, hard-sided container, and declared to your airline at check-in. Violating this requirement could result in arrest or costly federal fines under Virginia law.
Follow these tips and find your happiness upon arrival. We're looking forward to seeing you soon at RIC.