Interested in Doing Business with Car Rental Concessionaires? This Event Is for You!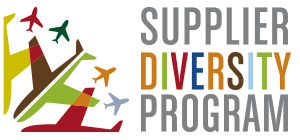 Richmond International Airport, VA (March 12, 2019) – On April 30th, Richmond International Airport (RIC) will partner with Charlottesville Albemarle Airport (CHO) to host a one-day diversity outreach event designed to inform small businesses about contracting opportunities with rental car concessionaires, part of a coast-to-coast initiative organized by the Airport Minority Advisory Council (AMAC) at more than three dozen U.S. airports.
"Both RIC and CHO are committed to promoting awareness of business opportunities to all types and sizes of businesses," said Russ Peaden, director of real estate and facilities for the Capital Region Airport Commission. "Sometimes we have a special opportunity, like this single-day outreach event focusing on disadvantaged, small, woman-owned and other companies, to convey timely information about contracting opportunities with rental car concessionaires."
Participants will meet and network with rental car representatives, certifying officials, airport staff, and other businesses and will learn how Airport Concessions Disadvantaged Business Enterprise (ACDBE) certification can benefit small businesses. Companies are not required to be certified to attend.
Event Details:
Date:                        Tuesday, April 30, 2019
Time:                       9:30 am – 12:00 noon
Location:                Richmond International Airport Main Terminal, 1 Richard E. Byrd Terminal Drive, Richmond, VA  23250
Register Online:                    Via Eventbrite.
Deadline to Register: April 19, 2019
RIC encourages all suppliers to register with eVA, the Commonwealth of Virginia's online procurement service (www.eva.virginia.gov). Once registered, companies can choose to receive e-mail notifications about purchasing and sourcing opportunities. For current and future business opportunities offered by the Capital Region Airport Commission at RIC, please visit RIC on the web.
About Richmond International Airport (RIC)
At Richmond International Airport, seven major airlines offer nonstop flights to major domestic destinations and connecting options to points around the world. The activities of RIC and its tenants create nearly 16,000 jobs and contribute $2.1 billion in economic activity annually to the Richmond region, according to the Virginia Department of Aviation's most recent economic impact analysis. In 2018, RIC welcomed more than four million passengers.
###
Media Contact:
Troy M. Bell, C.M.
Director – Marketing & Air Service Development/PIO
tbell@flyrichmond.com