JetBlue Announces Service to Los Angeles, Las Vegas, and Tampa
Historic Opportunities include First-Ever Scheduled Transcontinental Service to LAX, RVA's First Nonstop Option to Las Vegas, and Easy Access to Tampa on Sale Now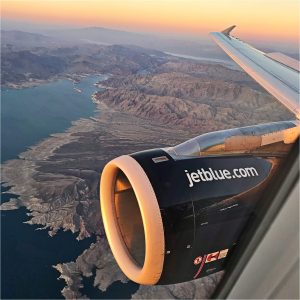 Richmond International Airport, VA – September 10, 2020
JetBlue Airways this morning announced new service to Los Angeles (LAX), Las Vegas (LAS), and Tampa (TPA) from Richmond International Airport (RIC) starting in November and December.
"Richmond International Airport (RIC) welcomes JetBlue's historic news this morning, announcing the airport's first-ever transcontinental option to Los Angeles, first-ever service to Las Vegas, and new nonstop service to Tampa," said Capital Region Airport Commission chairman Patricia O'Bannon. "Each of the three destinations are popular for Richmond region travelers and the flights certainly make it easier than ever for visitors to enjoy the attractions of Virginia's Capital Region."
The launch dates announced by JetBlue for the new Richmond destinations include:
Tampa (TPA) service starts November 19, 2020.
Los Angeles (LAX) service starts December 18, 2020.
Las Vegas (LAS) service starts December 20, 2020.
"JetBlue's announcement of service from Richmond to three premier destinations, Los Angeles, Las Vegas, and Tampa, is incredible news for the region," said Perry J. Miller, president and CEO of the Capital Region Airport Commission. "Hat's off to JetBlue for recognizing the demand potential of the Richmond market and fast-tracking these routes to start in November and December. RIC is very appreciative of these opportunities."
The Richmond service announcements were part of a larger JetBlue initiative launching 24 new routes.
"This is the latest example of JetBlue's ability to be nimble and play offense as we quickly adjust to new customer behaviors and booking patterns," said Scott Laurence, head of revenue and planning, JetBlue. "This latest series of new routes – even in the current environment – advances our revised network strategy, returns more aircraft to the skies and doubles down on our ability to generate more cash sooner."
Go here for the full JetBlue press release.
About Richmond International Airport (RIC)
Seven major airlines offer nonstop flights from Richmond International Airport (RIC) to major domestic destinations and connecting options to points around the world. Airport activities create nearly 16,000 jobs and contribute $2.1 billion in economic activity annually to the Richmond region, according to the Virginia Department of Aviation. In 2019, RIC welcomed a record 4.38 million passengers. For more information, please visit RIC's website.
###
Contact:
Troy M. Bell, C.M.
Director – Marketing & Air Service Development/PIO
tbell@flyrichmond.com