March Passenger Traffic Increases 12.9% to Establish New Monthly Record at Richmond International Airport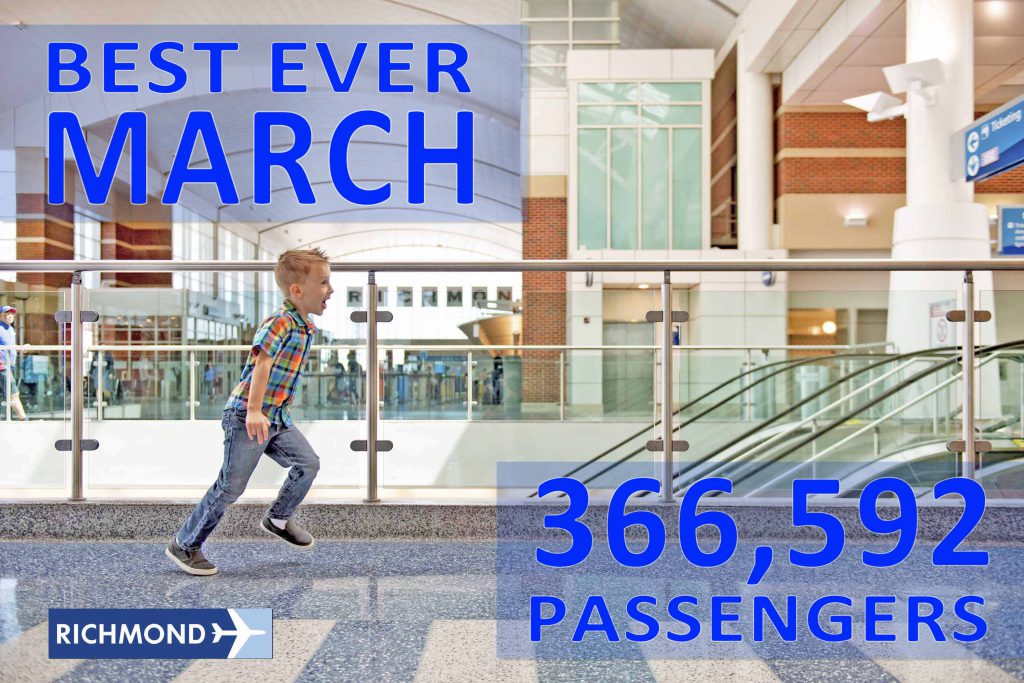 Richmond International Airport, VA (April 30, 2019) Richmond International Airport (RIC) reports 366,592 travelers transiting the facility in March 2019, a new monthly record topping the previous March passenger traffic mark of 324,714 set one year ago. This is the 18th consecutive month that RIC has reported a new record.
Passenger Traffic
For March, passenger traffic rose 12.9 percent compared to the same period a year ago. Delta was the market share leader with 33.0 percent of all passenger traffic, followed by American and United. In terms of year-over-year growth, six incumbent air carriers reported growth during the month with Spirit (+128.0%), Allegiant (+22.7%), and JetBlue (+16.2%) reporting the largest year-over-year gains.
For the first nine months of FY2019, passenger traffic is up 13.2 percent.
Cargo
Total cargo, measured as a sum of freight and mail, decreased 1.9 percent in March over the same period last year to 11.8 million pounds. For the first nine months of the fiscal year, cargo volume is up 1.9 percent.
Operations
Overall aircraft operations saw a 6.3 percent increase during the month, with general aviation (+12.9%), air taxi (+7.3%), and air carrier operations (+7.2%) reporting increases. For fiscal year 2019 to date, aircraft operations are up 4.2 percent.
View the monthly aviation summary here.
Air Service Notes
With the inauguration of Sarasota-Bradenton (SRQ) flights on April 4th, Allegiant now provides service from RIC to four destinations.  The new Sarasota route is joined by St. Pete/Clearwater (PIE), Orlando/Sanford (SFB), and Nashville (BNA).
Southwest Airlines will launch a new nonstop weekend route, Richmond-Tampa, and resume seasonal Saturday Richmond-Orlando service on August 10th.
Financials
Through March, the Commission reports operating revenues of $38.8 million, greater than budget by $4.4 million (13%). Operating expenses for the same period amounted to $19.5 million, less than budget by $32 thousand (less than 1%).
Additional Matters
Over 300 people from more than two dozen organizations participated in the Airport's FAA-mandated full-scale emergency response exercise on April 17, 2019.
Hollie Baron, A.A.E., RIC's Airport Security Coordinator, was recognized at the April Commission meeting as she was recently awarded the distinction of Accredited Airport Executive (A.A.E.) by the American Association of Airport Executives (AAAE). By fulfilling the requirements leading to accreditation, Ms. Baron joins a select group of individuals who have earned this designation. At present, fewer than 10 percent of AAAE's members throughout the country have earned the distinction. Ms. Baron is a graduate of Embry-Riddle Aeronautical University and has been in aviation since 1984.
On April 24th, RIC was recognized with the Most Innovative Green Projects Award at the 6th annual Virginia Green Travel Conference and Travel Star Awards Celebration in recognition of the environmentally sound measures implemented by the airport, ranging from the switchover to CNG-powered (from diesel) parking shuttles to its airport-wide recycling program.  
About Richmond International Airport (RIC)
Now you're going places with Richmond International Airport (RIC).  Seven major airlines offer nonstop flights to major domestic destinations and connecting options to points around the world. The activities of RIC and its tenants create nearly 16,000 jobs and contribute $2.1 billion in economic activity annually to the Richmond region, according to the Virginia Department of Aviation's most recent economic impact analysis. In 2018, the Airport welcomed more than four million passengers. For more information, please visit www.flyrichmond.com.
###
Contact:
Troy M. Bell, C.M.
Director – Marketing & Air Service Development/PIO tbell@flyrichmond.com