New Traffic Record as RIC Reports 4.27 Million Passengers in FY2019
Passenger Traffic, Cargo, and Aircraft Operations All Show Growth in Fiscal Year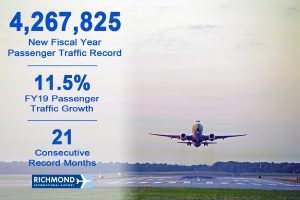 Richmond International Airport, VA (July 30, 2019) – At today's Capital Region Airport Commission meeting, Richmond International Airport (RIC) reported FY19 passenger traffic of 4,267,825, a new fiscal year record and an increase of 11.5 percent over the previous year. Furthermore, with airlines reporting 383,535 passengers for June 2019, RIC established a new June passenger traffic record, surpassing the old mark set a year ago (at the time, an all-time record) by 2.7 percent.
"We have accomplished so much together," said Jon E. Mathiasen, A.A.E., in his final meeting as president and CEO prior to retirement. "This commission is a best example of the four participating jurisdictions working together for the betterment of the Richmond region."
Passenger Traffic
June's increase represents the 21st consecutive record passenger traffic month at RIC. During the month, five air carriers, Allegiant, Spirit, Delta, American, and United, reported year-over-year growth. Delta was June's market share leader at 34.9 percent, followed by American and United.
Cargo
Total cargo, measured as a sum of freight and mail, decreased 2.9 percent in June, but increased 2.5 percent in FY19 to more than 140 million pounds.
Operations
For June, aircraft operations decreased 0.6 percent versus last year, despite growth (+5.4%) in the air carrier category. In FY19, aircraft operations climbed 4.8 percent.
See the monthly aviation summary here.
Financials
For FY19, the Commission's operating revenues totaled $52.9 million, greater than budget by $5.7 million (+12%). Operating expenses for the same period amounted to $26.4 million.
At the meeting, Davenport & Company, LLC, provided an outstanding debt review. Current outstanding bond debt for the Commission is $72.6 million, comprised of $69.3 million in General Airport Revenue Bonds and $3.3 million in PFC Revenue Bonds, with favorable debt service coverage and debt per enplanement ratios.
Briefs
Additional items discussed at the monthly Commission meeting include:
Southwest Airlines will launch a new nonstop weekend route, Richmond-Tampa, and resume seasonal Saturday Richmond-Orlando service on August 10th.
American Airlines will commence thrice-daily flights between Richmond and New York (JFK) on November 21st, providing new connecting options to top-tier West Coast and European destinations.
The Commission authorized the president and CEO to negotiate and execute construction agreements, subject to review by legal counsel, for three projects:

Runway 7/25 Conversion to Taxiway H, awarded to Branscome, Inc., Richmond, $8.67 million.
East Side Security Enhancements, awarded to VIRTEXCO Corporation, Richmond, $1.51 million.
Airport Landside Roads Rehabilitation, awarded to Allan Myers VA, Inc., Glen Allen, $728 thousand.

For the 29th consecutive year, the Certificate of Achievement for Excellence in Financial Reporting has been awarded to the Commission by the Government Finance Officers Association of the United States and Canada (GFOA) for its Annual Comprehensive Financial Report (ACFR). The Certification of Achievement is the highest form of recognition in the area of governmental accounting and financial reporting, and its attainment represents a significant accomplishment by a government and its management.
Immediate past chairman and current Commission member Aubrey M. Stanley of Hanover was recognized for his contributions to the Airport over the past 33 years.
Chair Patricia S. O'Bannon of Henrico named members of two standing Commission committees. The Planning and Construction Committee will be chaired by Robert F. Norfleet, Jr., of Richmond, while the Finance and Audit Committee will be chaired by Leslie Haley of Chesterfield.
About Richmond International Airport (RIC)
Seven major airlines offer nonstop flights from Richmond International Airport (RIC) to major domestic destinations and connecting options to points around the world. The activities of RIC and its tenants create nearly 16,000 jobs and contribute $2.1 billion in economic activity annually to the Richmond region, according to the Virginia Department of Aviation. Annually, RIC welcomes more than four million passengers. For more information, please visit www.flyrichmond.com.
###
Contact:
Troy M. Bell, C.M.
Director – Marketing & Air Service Development/PIO
tbell@flyrichmond.com