New TSA Electronics Screening Procedures At Richmond International Airport Prompt Call for Travelers To Plan Ahead
Carry-On Electronics Subject To New, Stronger Screening Procedures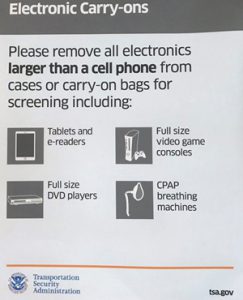 Richmond International Airport, VA (October 24, 2017)

New Transportation Security Administration (TSA) screening procedures for carry-on electronics, announced by the agency in July during a pilot program conducted at ten airports, have arrived at Richmond International Airport (RIC).

"Whether you're flying to, from, or within the United States, TSA is committed to raising the baseline for aviation security by strengthening the overall security of our commercial aviation network to keep flying as a safe option for everyone," said TSA Deputy Administrator Huban A. Gowadia at the time.

Per the TSA announcement, TSA officers will ask travelers to remove electronics larger than a cell phone from their carry-on bags and place them in a bin with nothing on top or below, similar to how laptops have been screened. This simple step helps TSA officers obtain a clearer X-ray image.

The stronger security measures do not apply to passengers enrolled in TSA Pre✓® who are using TSA Pre✓® lanes, the agency notes. The program allows TSA to focus resources on passengers who may pose a high risk to security while providing expedited screening to those travelers who have been identified as low-risk, trusted travelers.

"Richmond International Airport is supportive of measures to keep the flying public safe," said Airport president and CEO Jon E. Mathiasen, AAE. "We continue to work with TSA to accomplish safe travel in the most expedient manner possible and ask travelers be familiar with screening requirements."

With the recent change, some periods at RIC – particularly early mornings – have seen extended wait times at the checkpoints. Additionally, travelers should know:
Travelers are strongly encouraged to check in at least 90 minutes prior to departure. Please note, some airlines recommend checking in two hours prior for domestic flights.
Once checked in, travelers should proceed directly to the security screening checkpoints.
40 minutes prior to departure, travelers should be at their departure gates, ready to board.
Learn more about security screening.
About Richmond International Airport (RIC)
Richmond International Airport (RIC) is one of the most modern and well equipped airports in the eastern United States. Scheduled service from RIC offers nonstop flights to major domestic destinations and connecting options to points around the globe. More than 3.6 million passengers travel through RIC annually. For more information, please visit flyrichmond.com.
###
Contact:
Troy M. Bell, C.M., Director – Marketing & Air Service Development/PIO
tbell@flyrichmond.com