Passenger Traffic Sets New July Record at RIC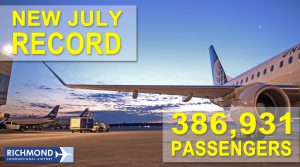 Richmond International Airport, VA (August 27, 2019) – The Capital Region Airport Commission reports a new month of July record as 386,931 travelers transited through Richmond International Airport (RIC) in July 2019, topping the previous mark of 373,066 set a year ago. July was also the second-best passenger traffic month in the airport's history and represents the 22nd consecutive record month reported by RIC.
Passenger Traffic
In July, the Airport saw a 3.7 percent year-over-year passenger traffic increase. Delta was the market share leader at 35.9 percent, followed by American and United. Five airlines reported year-over-year growth in July, including Allegiant (+29.2%), Delta (+10.1%), Spirit, Southwest, and American.
For the first seven months of calendar year 2019, passenger traffic at RIC is up 8.9 percent.
Cargo
Total cargo, measured as a sum of freight and mail, increased 5.2 percent to 11.6 million pounds, compared to the same period a year ago. For CY2019, total cargo is up 3.0 percent.
Operations
Aircraft operations saw a 10.8 percent increase for the month, with general aviation (+40.3%), military, and air carrier operations all reporting increases. Total operations are up 7.6 percent thus far in 2019.
View the monthly aviation summary here.
Financials
In the first month of fiscal year 2020, operating revenues totaled $4.5 million, greater than budget by $78 thousand (2%). Operating expenses for the same period amounted to $2.2 million.
Briefs
Additional business matters arising in August:
Southwest Airlines launched a new nonstop weekend route, Richmond-Tampa, and resume seasonal Saturday Richmond-Orlando service on August 10th.
American Airlines will commence thrice-daily flights between Richmond and New York (JFK) on November 21st, providing new connecting options to top-tier West Coast and European destinations.
The Commission approved a resolution to enter into a contract with J.S.G. Corporation for the construction of the East Ramp 3 Access Road. Contract value: $1,599,108.20.
The Commission approved a resolution authorizing entering into an easement agreement with the County of Henrico for the repair and maintenance of Henrico County-owned water lines located on Commission property.
About Richmond International Airport (RIC)
Seven major airlines offer nonstop flights from Richmond International Airport (RIC) to major domestic destinations and connecting options to points around the world. The activities of RIC and its tenants create nearly 16,000 jobs and contribute $2.1 billion in economic activity annually to the Richmond region, according to the Virginia Department of Aviation. Annually, RIC welcomes more than four million passengers. For more information, please visit www.flyrichmond.com.
###
Contact:
Troy M. Bell, C.M.
Director – Marketing & Air Service Development/PIO
tbell@flyrichmond.com