Recapping the Capital Region Airport Commission's June Meeting
Items Discussed include May 2020 Aviation Activity, the Serve 2025 Strategic Plan Draft, Financial Results, and Other Matters of Interest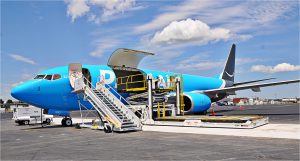 At the regular monthly meeting of the Capital Region Airport Commission, Richmond International Airport (RIC) reports a 91.6 percent decrease in total passenger traffic with 33,125 passengers this year compared to 392,263 in May 2019 (a record month when reported). Due to the ongoing COVID-19 public health crisis, fiscal year 2020 (FY20) passenger traffic has decreased 19.1 percent through May.
Additional Passenger Service Notes
American Airlines was the month's market share leader with a 51.6 percent share, followed by Delta (14.4%) and Southwest (11.4%).
Flight cancellations: 41 in May (4.3% of schedule) compared to 920 in April (44.4%).
Minimum service obligations: as a part of accepting federal CARES Act relief funds, air carriers agreed to minimum service obligations.
From Richmond, American, Delta, and United must offer five departures/week.
Allegiant, JetBlue, Southwest, and Spirit must each offer a minimum of three departures per week from RIC.
Minimum weekly departures from Richmond (RIC): 27 (all airlines).
By comparison, minimum weekly departures from Atlanta (ATL): 38 (all airlines).
All RIC airlines appeared to meet or exceed federal minimum service obligations in May.
Several routes have recently re-started, including American flights to Miami, JetBlue service to Orlando, Spirit to Orlando and Ft. Lauderdale, Allegiant to St. Pete / Clearwater, Orlando / Sanford, Sarasota / Bradenton, Punta Gorda, and Nashville, and United to Newark.
More destinations are scheduled to return in July, August, and September.
Cargo
Total cargo, measured as a sum of freight and mail, decreased 8.5 percent to 11.48 million pounds (5,207 metric tons) from May 2019. For FY20 to date, total cargo is down 2.4 percent.
Operations:
Aircraft operations decreased 62.3 percent in May. As a result, operations are now showing a decrease of 10.6 percent thus far in FY20.
View RIC's activity summary here.
Financials
May operating revenue totaled $1.7 million, less than budget by ($2.9) million or (63.8%). Year-to-date operating revenues totaled $42.7 million, less than budget by ($5.1) million or (10.7%).
On the expense side, May's operating expenses totaled $2.0 million, less than budget by ($358) thousand or (15%). For FY20 to date, operating expenses amount to $24.0 million, less than budget by ($1.8) million or (6.8%).
Additional Matters
Additional items discussed at the June Commission meeting include:
The Commission elected the following slate of officers for FY21: Patricia S. O'Bannon, Chairman; Wayne T. Hazzard, Vice Chairman; Robert F. Norfleet, Jr., Treasurer, and Leslie Haley, Secretary.
President and CEO Perry J. Miller, A.A.E., I.A.P., noted the arrival of Amazon Air on June 24, 2020. The airline plans two daily cargo flights, seven days per week with RIC as its newest gateway operation.
Mr. Miller additionally presented an advanced draft of the Serve 2025 strategic plan for consideration by the Commission.
The Building Services team was recognized for the quick adoption of advanced cleaning and disinfecting technology for public areas, workspaces, and vehicles.
Congratulations were extended to Mr. Miller for his election to the Executive Committee of the American Association of Airport Executives (AAAE). He will serve as association's 2020-2021 Secretary/Treasurer.
Victor L. Williams, retiring Director – Public Safety, was recognized for 38 years of outstanding service to the Commission.
John B. Rutledge, P.E., was named interim Chief Operating Officer for the Commission.
Uday Nethula was introduced as the new Human Capital Manager.
About Richmond International Airport (RIC)
Richmond International Airport (RIC) is one of the most modern airports in the eastern U.S. Seven major airlines offer nonstop flights to major domestic destinations and connecting options to points around the world. Activities associated to the Airport create nearly 16,000 jobs and contribute $2.1 billion in economic activity annually to the Richmond region, according to the Virginia Department of Aviation's most recent economic impact analysis.
In 2019, the Airport welcomed 4.38 million passengers. To learn more, visit our website.
###
Contact:
Troy M. Bell, C.M.
Director – Marketing & Air Service Development/PIO