RIC Earns 2023-2024 Great Place To Work Certification®
Airport Commission Earns "Highly Coveted" Certification for the 3rd Consecutive Year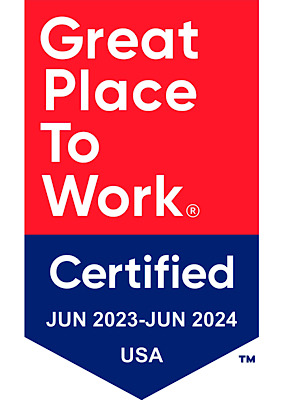 The Capital Region Airport Commission, the owner and operator of Richmond International Airport (RIC), is proud to share that it has earned Great Place To Work (GPTW) Certification® for the third consecutive year. This prestigious award is based solely on what current employees say about their experience working at the Airport for the Commission. This year, 89% of employees said the Commission is a great place to work – 32 points higher than the average U.S. company.
"We are thrilled to be recognized for a third straight year of Great Place To Work Certification® as we consider employee sentiment about the workplace to be a top priority every day," said Commission President and CEO Perry J. Miller, A.A.E., I.A.P. "We owe our continued success to our team of dedicated employees at the Airport. We celebrate and thank them for all they do to contribute to an exceptional customer experience at RIC."
A global authority on workplace culture, employee experience, and the leadership behaviors proven to deliver market-leading revenue, employee retention and increased innovation, Great Place To Work's certification program is the sole official recognition earned by the real-time feedback of employees regarding their company culture.
"Great Place To Work Certification® is a highly coveted achievement that requires consistent and intentional dedication to the overall employee experience," says Sarah Lewis-Kulin, the Vice President of Global Recognition at Great Place To Work.
About Richmond International Airport (RIC)
Richmond International Airport's vision is to move people, business, and commerce to advance the Richmond region. Nine passenger airlines and four dedicated cargo carriers offer domestic service from Richmond International Airport (RIC) with connecting options to points around the globe. According to the Commonwealth of Virginia, Airport activities create nearly 16,000 jobs and contribute about $2.1 billion in economic activity annually to Virginia's Capital Region. To learn more, please visit RIC on the web, Twitter, Facebook, Instagram, or LinkedIn.