RIC Reports New March Passenger Record 
First Monthly Record since the Arrival of COVID-19; March 2023 Total Tops the Previous Mark Established in 2019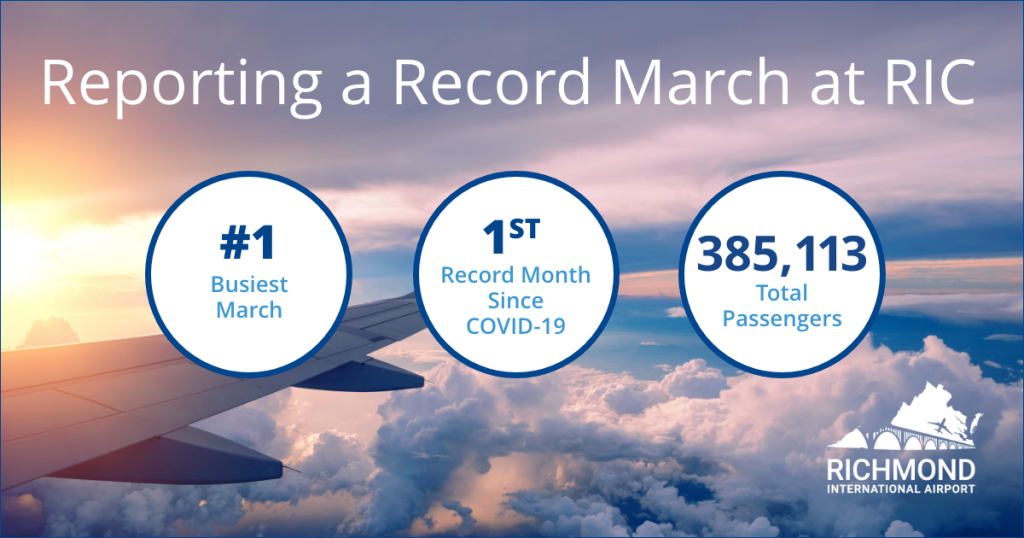 Richmond International Airport, VA – April 28, 2023
At the monthly meeting of the Capital Region Airport Commission, Richmond International Airport (RIC) reported record March passenger traffic as March 2023's count of 385,113 surpassed the previous record of 366,582 established in pre-COVID 2019 by 5.0 percent. The 2023 total also represents a 15.3 percent increase over the same period a year ago.
"This breakthrough to record territory, after having passenger totals affected by COVID-19 for 36 months, is certainly welcome news," said Capital Region Airport Commission president and CEO Perry J. Miller, A.A.E., I.A.P. "We're in growth mode and foresee more reports of this nature as several new routes come online later this spring."
For more info, visit monthly statistics on the web.
Air Service Notes – Upcoming (New or Restored) Route Launch Dates
Spirit Airlines: Daily Las Vegas (LAS) flights start May 6th.
Breeze Airways: New York-Islip (ISP), Jacksonville (JAX), Los Angeles (LAX), and Providence (PVD) – all on May 18th; twice-weekly Cincinnati (CVG) flights start May 19th.
Sun Country: Minneapolis/St. Paul (MSP) twice-weekly service starts May 19th.
Delta: Minneapolis/St. Paul (MSP) daily service starts June 5th.
Other Matters
The Commission welcomed a community presentation by Brandon S. Turner, the deputy director for Hanover County Economic Development.
For LEGO Richmond, the Commission approved the application to the Foreign-Trade Zones Board of the United States for usage-driven sites for a manufacturing facility and for a temporary warehouse facility to allow the company to compete with similar offshore facilities, maintain domestic manufacturing capacity, and enable significant job creation in a range of professional and production positions.
About Richmond International Airport (RIC)
Richmond International Airport's vision is to move people, business, and commerce to advance the Richmond region. Nine passenger airlines and four dedicated cargo carriers offer domestic service from Richmond International Airport (RIC) with connecting options to points around the globe. According to the Commonwealth of Virginia, Airport activities create nearly 16,000 jobs and contribute about $2.1 billion in economic activity annually to Virginia's Capital Region. To learn more, please visit RIC on the web, Twitter, Facebook, Instagram, or LinkedIn.
###
Contact:
Troy M. Bell, C.M., Director – Marketing & Air Service Development/PIO