RIC Responds to COVID-19 (Novel Corona Virus) Concerns
Airport Details Enhanced Cleaning and Related Counter Measures, Work with Partners, Airline Travel Alerts, and Guidance for Passengers and Employees.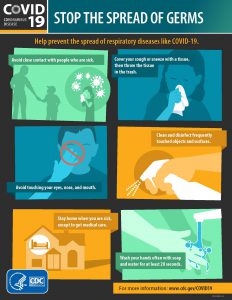 At Richmond International Airport (RIC), the safety of every passenger, tenant, employee, or guest that visits RIC is our highest concern. RIC is working to provide a best practices response to concerns associated with Coronavirus Disease 2019 (COVID-19), first reported in Wuhan, China, on December 31, 2019.
The Airport is tracking the latest information from public health experts, has reviewed and updated relevant procedures, and continues to stay apprised of the latest developments regarding the spread of COVID-19. The federal government has declared a public health emergency for the U.S., established a task force dedicated to addressing this rapidly evolving situation, and restricted travel to/from certain destinations.
To date, these are some of the measures undertaken at RIC in response to COVID-19 travel concerns:
Cleaning Services
Cleaning at RIC meets or exceeds CDC guidelines.
Hand sanitizers have been placed at entrances to the terminal.
Hand sanitizers have been placed at security screening checkpoints.
RIC has added electrostatic cleaning/disinfecting systems for use in public areas, tenant offices, and Commission vehicles.
Sanitizing wipes have been added on all housekeeping carts for routine cleaning.
Custodial Services has increased cleaning frequencies for frequently-touched surfaces such as stair and escalator hand rails, elevator buttons, ticketing kiosks, badge readers, door handles, terminal and concourse seating, and more.
Manufacturers' guidelines for cleaning products are being observed including "dwell time" to allow sanitizing efforts to be their most effective.
As supply permits, the Airport has provided sanitizing wipes to terminal tenants such as airlines and rental car agencies.
Several airlines have added hand sanitizers at their ticket counters.
The terminal-based workers providing wheelchair service are using sanitizing wipes on wheelchair surfaces before and after use.
Many rental car counters have added their own sanitizer.
Public Health Information
The Airport is working closely with public health officials at the local, state and federal levels, along with trade associations for U.S. airports, to protect against this virus and re-emphasizing promotion of hand hygiene and cough and sneeze etiquette.
Airline Travel Alerts and Waiver of Fees for Flight Changes
Given the concerns of travelers, the airlines providing service from RIC have posted various travel alerts and policies that may extend fee waivers for qualifying reservation changes. To learn more about policies extended by a specific airline, follow the provided web links:
Guidance for Travelers and Airport Employees
All airlines operating scheduled flights at Richmond International Airport require masks or facial coverings onboard aircraft. Additionally, several require facial coverings during "all phases of travel" including at the ticket counter, in the gate area, during boarding, on the aircraft, and during the flight. Please visit your airline's website for specific policy details (see links above).
Public health experts suggest good personal hygiene as the best way to prevent illness. Steps include washing your hands frequently, covering your mouth and nose with a tissue when you cough or sneeze, then throwing the tissue in the trash and washing your hands, avoiding contact with people who are sick, avoiding touching your eyes, nose or mouth with unwashed hands, cleaning and disinfecting frequently touched objects and surfaces using a regular household cleaning spray or wipe.
Importantly, stay home and seek medical attention if you are not feeling well. Avoid contact with sick people. Avoid touching your eyes, nose, or mouth with unwashed hands. And consider trying alternatives to shaking hands, like an elbow bump.
Resources
If you are seeking more information about COVID-19 and travel, please reference:
Chamber RVA: Coronavirus Resources for RVA Businesses
---
Updates
---
December 13, 2020
---
July 1, 2020
Virginia enters Phase 3.
Daily Parking resumes $12/day rate, Economy Parking remains temporarily closed. For more information, visit Airport Parking.
---
May 9, 2020
---
April 2, 2020
---
March 30, 2020
Governor Northam issued a stay-at-home order (Executive Order 55 ), to be effective until June 10, 2020, unless amended or rescinded by a further executive order.
---
March 27, 2020
---
March 26, 2020
News and Gift Locations now have reduced hours of operation. Please refer to the Shopping and Dining page for the most up to date information.
---
March 25, 2020
---
March 23, 2020
---
March 20, 2020
Governor Northam activated the Virginia National Guard to help dispense supplies to Virginians .
U.S. Customs and Border Protection temporarily limits travel of individuals from Canada and Mexico into the United States to "essential travel."
---
March 19, 2020
Per requests from concessionaires, the following temporary steps have been undertaken by restaurant and news and gift operators at RIC:
Restaurant Locations
Operating select locations with revised business hours
Providing to-go service at select locations
Seating available at select locations for up to ten customers
News and Gift Locations
Hudson News located in the atrium at the entrance to Concourse A is closed.
Tech on the Go in Concourse B will close at 4:00 p.m. daily
For the most up to date information please refer to the Shopping and Dining page.
---
March 18, 2020
President Trump signs into law the Families First Coronavirus Response Act of 2020, which provides paid sick leave, free testing, expanded food assistance and unemployment benefits, and which requires additional protections for healthcare workers.
---
March 13, 2020
All USO airport locations in the United States suspended operations and will remain suspended until further notice. For the most up to date information please refer to the USO or Airport Services page.
---
March 12, 2020
Governor Ralph Northam declared a state of emergency and cancelled out-of-state travel for public employees, after the state's total cases doubled since his last update.
---
###
Contact:
Troy M. Bell, C.M.
Director – Marketing & Air Service Development/PIO
tbell@flyrichmond.com