RIC Sets New April Passenger Traffic Record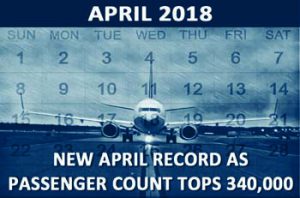 Richmond International Airport, VA (May 31, 2018)

For the seventh consecutive month, Richmond International Airport (RIC) reports a new monthly record as the 340,590 travelers transiting the facility in April 2018 topped the previous mark of 300,491 set in April 2015.

"Thanks to traveler support and airline confidence in the market, we continue to report substantial passenger traffic increases at Richmond International Airport," said Capital Region Airport Commission president and CEO Jon E. Mathiasen, AAE. "April activity benefitted from new service, a widespread uptick in seat supply by incumbent airlines, an impressive bump for the NASCAR week at Richmond Raceway, and strong sports bookings by Richmond Region Tourism."

Passenger Traffic
For April 2018, RIC passenger counts rose 15.1 percent compared to the same period a year ago. Delta was RIC's market share leader with 34.5 percent of all passenger traffic, followed by American and United. In terms of year-over-year growth, four air carriers reported growth during the month, including Delta (+18.6%), JetBlue (+16.5%), United (+9.7%), and American (+4.8%).

For the first ten months of FY2018, passenger traffic is up 5.0 percent.

Cargo
Total cargo, measured as a sum of freight and mail, increased 0.6 percent in April over the same period last year to 10.5 million pounds.

Operations
Likewise, aircraft operations saw a 9.6 percent increase during the month, with military (+20.4%), air carrier (+13.6%), general aviation (+9.9%), and air taxi (+1.1%) operations all reporting year-over-year growth. For fiscal year 2018, aircraft operations are up 6.0 percent.

View the monthly aviation summary here.

Air Service Notes
Beginning June 14th, Allegiant will offer new twice-weekly nonstop service from Richmond to Nashville (BNA).
United Airlines is adding a second daily Denver departure, starting in June.  Richmond will see morning and afternoon departures once in effect. United has provided nonstop service between Richmond and Denver since April 2016.
JetBlue Airways will upgauge its Orlando flights to mainline Airbus aircraft in June and further optimize its Orlando service over the course of the summer.
RIC has reported passenger traffic growth in 45 of the last 50 months.
Financials
For the month of April, operating revenues totaled $4.3 million, greater than budget by 11 percent. Operating expenses for the month totaled $2.0 million, equal to budget.
For the fiscal year to date (the Commission's fiscal year runs from July through June) operating revenues have totaled $38.9 million, greater than budget by $1.2 million (3%). Operating expenses for the same period amounted to $20.3 million, less than budget by $391 thousand (2%).
Additional Matters
Additional items discussed at the monthly Commission meeting included:
The FY19 operating budget was approved and adopted by the Commission. The plan for FY19 includes operating revenue of $47.2 million, an increase of 3.1 percent over FY18, and operating expense of $26.0 million, a 3.7 percent increase.
Commissioners expressed strong support for continued staff focus on improving baggage delivery times by air carriers operating at RIC.
The Concourse A Extension project, which will add six new gates to Concourse A to create more aircraft parking positions, public restrooms, and concession space, was advertised on May 20th. Bids are expected in early July.
About Richmond International Airport (RIC)
Richmond International Airport (RIC) is one of the most modern and well-equipped airports in the eastern United States. Scheduled service from RIC offers nonstop flights to major domestic destinations and connecting options to points around the globe. Annually, RIC welcomes more than 3.6 million passengers. For more information, please visit flyrichmond.com.
###
Contact:
Troy M. Bell, C.M.
Director – Marketing & Air Service Development/PIO
tbell@flyrichmond.com