RIC Sets New February Passenger Record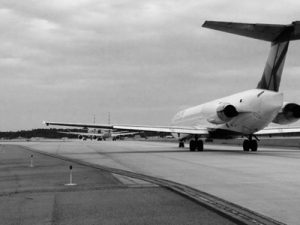 Richmond International Airport, VA (March 30, 2018)

For the fifth consecutive month, Richmond International Airport (RIC) reports a record level of travelers, as February's total passenger count surpassed the previous record established a decade ago. This year, RIC air carriers reported 252,520 passengers versus 251,968 in February 2008, a leap year.

"Richmond International Airport is progressively moving forward with record-setting passenger numbers, increased air carrier activity, and steadily-growing cargo volume," said Capital Region Airport Commission president and CEO Jon E. Mathiasen, AAE. "Beyond the major performance categories, RIC is proceeding with new cargo support facilities on its east side, heating and cooling enhancements to support the new six-gate Concourse A extension, checkpoint expansion for Concourse B, and upcoming rental car facility improvements, all while meeting operating and capital budget plans."

Passenger Traffic
For February 2018, RIC passenger counts rose 5.6 percent compared to the same period a year ago. Delta was RIC's market share leader with 35.0 percent of all passenger traffic, followed by American and United. In terms of year-over-year growth, JetBlue (+21.0%), American (+9.1%), and United (+6.8%) realized the strongest gains.

For fiscal year 2018 (FY18), passenger traffic is up 3.2 percent.

Cargo
Total cargo, measured as a sum of freight and mail, increased 1.32 percent in February over the same period last year to 10.2 million pounds.

Operations
While military and general aviation operations dipped, air carrier operations reported a 13.0 percent increase in February. For fiscal year 2018, aircraft operations are up 5.8 percent.

View the monthly aviation summary here.

Air Service Notes
RIC has reported passenger traffic growth in 43 of the last 48 months.
Spirit Airlines launched daily Richmond-Orlando (MCO) and Richmond-Ft. Lauderdale (FLL) service on March 15, 2018.
Allegiant will start seasonal twice-weekly nonstop service from Richmond to Nashville (BNA) on June 14, 2018.
United is adding a second daily Denver (DEN) departure, starting in June, with flights departing RIC in the morning and again in the afternoon. United launched service to Denver from Richmond in April 2016.
United is also planning to add a second daily Houston (IAH) flight beginning in June.
JetBlue Airways will upgauge its twice-daily Orlando (MCO) flights to mainline Airbus equipment for the summer. The route traditionally been served by 100-seat Embraer E190s.
Financials
Through February, fiscal year-to-date (the Commission's fiscal year runs from July through June) operating revenues totaled $30.6 million, greater than budget by $616 thousand (2%), with gains in parking and concession revenue reporting higher than expected in February.
Operating expenses for the same period amounted to $16.1 million, less than budget by $634 thousand (4%). In February, the Commission recognized a $120 thousand reimbursement from the Virginia Department of Emergency Management (VDEM) for snow removal expenses from a prior fiscal year.
Additional Matters
Three additional items were discussed at the monthly Commission meeting:
The Commission authorized the CEO to execute a lease with Aviation Facilities Company, Inc. (AFCO), to support a new 32,000 square foot air cargo facility for DHL on the east side. The facility will provide areas for parking, offices, cargo and package handling, and other ancillary commercial uses.
CFO and COO Doug Blum noted that Fitch Ratings affirmed the "A" rating on approximately $78.4 million outstanding airport revenue bonds on March 15th. Per Fitch, the rating outlook is stable.
The Commission authorized its president and CEO to negotiate and execute a construction agreement with Waco, Inc. of Sandston, VA, for $1.655 million improvements to increase heating and cooling capabilities at the Central Utility Plant.
About Richmond International Airport (RIC)
Richmond International Airport (RIC) is one of the most modern and well-equipped airports in the eastern United States. Scheduled service from RIC offers nonstop flights to major domestic destinations and connecting options to points around the globe. Annually, RIC welcomes more than 3.6 million passengers. For more information, please visit flyrichmond.com.
###
Contact:
Troy M. Bell, C.M.
Director – Marketing & Air Service Development/PIO
tbell@flyrichmond.com