RIC Traffic Climbs 11.7%, Sets New October Record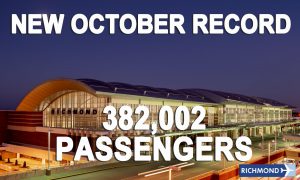 Richmond International Airport, VA (November 29, 2018) – At the monthly meeting of the Capital Region Airport Commission, Richmond International Airport (RIC) reported a new October passenger record as 382,002 travelers transited the facility during the month, an increase of nearly 40,000 passengers over the October count of 342,055 in 2017. October 2018 represents the 13th consecutive month with record passenger traffic at the facility.
Passenger Traffic
In October, RIC had an 11.7 percent passenger traffic increase versus the same period a year ago. Delta claimed a 32.3 percent passenger share, followed by American (31.1 percent), and United (14.9 percent).
Four incumbent airlines, United (+22.7%), Delta (+7.9%), Southwest (+4.6%), and American (+4.0%) reported passenger growth versus a year ago. Allegiant, offering twice-weekly service to three destinations, reported a passenger increase of more than 50 percent. New entrant Spirit claimed a 3.8 passenger share for the month.
For the calendar year through October, RIC passenger traffic has increased 10.5 percent.
Cargo
Total cargo, measured as a sum of freight and mail, increased 5.8 percent in October versus the year-ago period. For the calendar year to date, total cargo has increased five percent.
Operations
Likewise, total operations increased 10.7 percent, with air carrier (+14.5%) and general aviation (+18.7%) operations reporting increases over last year. For the calendar year, aircraft operations are up 5.6 percent.
View the monthly aviation summary here.
Financials
Through October, the fourth month of the Commission's fiscal year, operating revenues totaled $17.7 million, greater than budget by $1.7 million (11%). For the same period, operating expenses amounted to $8.6 million, less than budget by $43 thousand (less than 1%).
Additional Matters
Additional items discussed at the Commission meeting include:
Allegiant announced new twice-weekly service to Sarasota-Bradenton International Airport (SRQ) beginning April 4, 2019. SRQ will be Allegiant's fourth destination from Richmond, joining St. Pete/Clearwater (PIE), Orlando/Sanford (SFB), and Nashville (BNA).
Starting in April, United Airlines will add a sixth daily frequency on the Richmond-Newark (EWR) route, increasing scheduled weekly RIC-EWR seats by 23 percent.
The Commission's Finance Department issued the Annual Comprehensive Financial Report (ACFR) for the years ending June 30, 2018, and 2017. The Commission's ACFR has been recognized by a Certificate of Achievement for Excellence in Financial Reporting by the Government Finance Officers Association every year since 1990. Recent ACFRs are posted on the Airport's website.
The Commission authorized the president and CEO to amend a lease agreement with United Parcel Service (UPS) to address a trailer parking portion of its leasehold.
About Richmond International Airport (RIC)
Richmond International Airport (RIC) is one of the most modern airports in the eastern United States. Seven major airlines, Allegiant, American, Delta, JetBlue, Southwest, Spirit, and United, offer nonstop flights to major domestic destinations and connecting options to points around the world. In its most recent fiscal year, the Airport welcomed more than 3.8 million passengers. The activities of RIC and its tenants create nearly 16,000 jobs and contribute $2.1 billion in economic activity to the Richmond region each year, per the Virginia Department of Aviation. To learn more, please visit flyrichmond.com.
Contact:
Troy M. Bell, C.M.
Director – Marketing & Air Service Development/PIO
tbell@flyrichmond.com