RIC Welcomes Bipartisan Infrastructure Law Funding to Renovate Federal Inspection Services (FIS) Facility
Funding Will Help Ensure Compliance with Federal Standards for International Passenger Processing and American with Disabilities (ADA) Requirements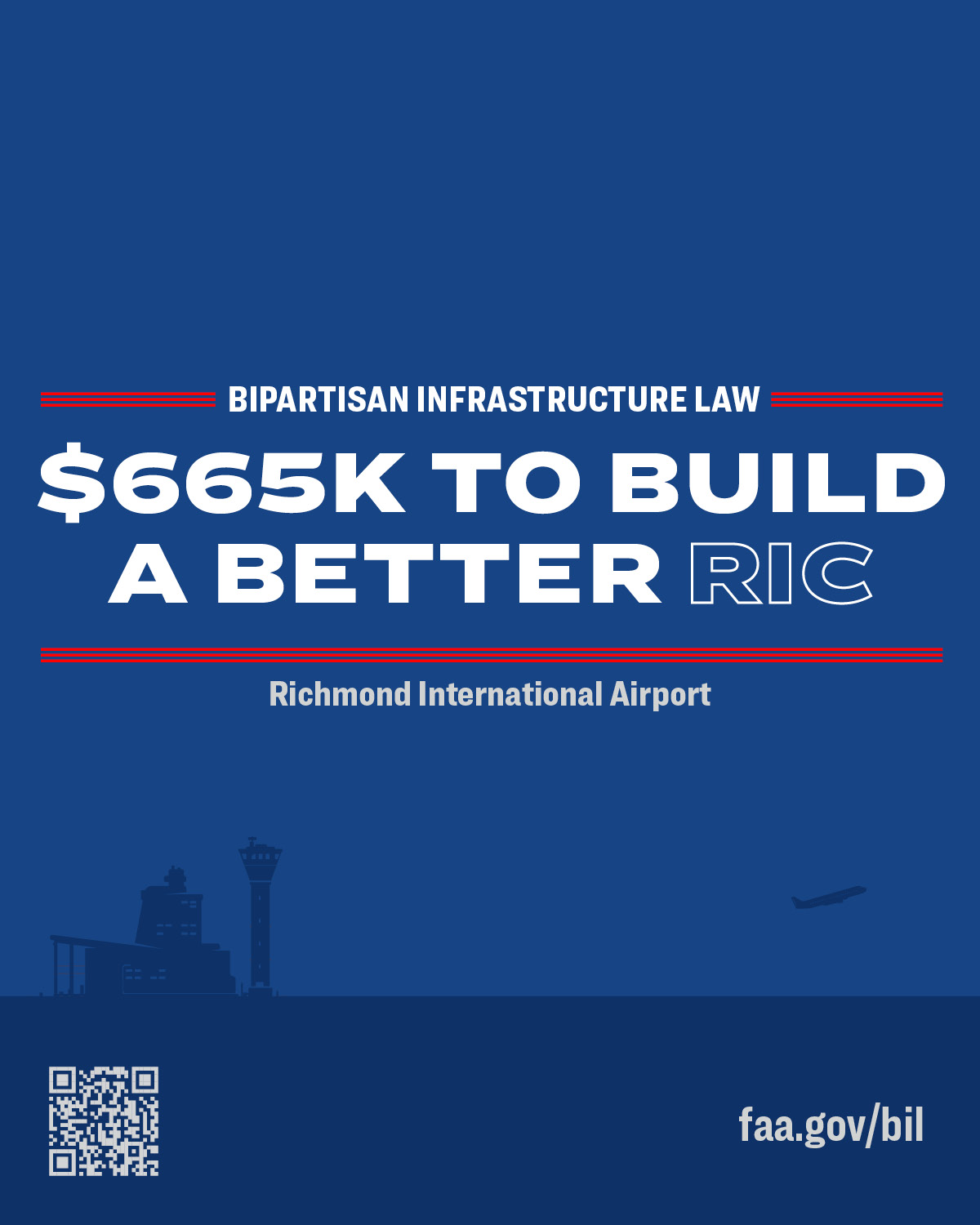 The Capital Region Airport Commission learned today Richmond International Airport (RIC) will be awarded $665,000 of 2021 Bipartisan Infrastructure Law funding to renovate its federal inspection services (FIS) facility to meet U.S. Customs and Border Protection Service facility standards for international travel processing.
"We work every day to make travel at RIC an excellent experience for our customers and this is a greatly appreciated boost for necessary improvements to support future international service," said Perry J. Miller, president and CEO. "When this renovation is completed in mid-2023, the Airport will be open for international flights and in compliance with federal FIS standards and ADA requirements. We thank members of our federal delegation for their unyielding support."
"The Bipartisan Infrastructure Law continues to deliver for Virginians. I am thrilled to announce Richmond International Airport will be receiving significant funding to help accommodate current and future passenger needs," said Rep. A. Donald McEachin (VA-04). "I was proud to vote for this historic legislation and help get it over the finish line. Hundreds of thousands of people, personnel, and goods come through our airport every year, and this federal funding will help ensure our infrastructure is efficient, safe, and up to date. Investments in our airport infrastructure will also help improve customers' experience, increase access for Americans with disabilities, and enhance our transportation capabilities."
The funds awarded to Richmond International Airport come in addition to $3.969 million in Congressionally Directed Spending secured by Sens. Mark Warner and Tim Kaine in the 2022 government spending bill for the project and will enable consistent, international passenger flights through Richmond.

About Richmond International Airport (RIC)
Richmond International Airport's vision is to move people, business, and commerce to advance the Richmond region. To that end, eight major passenger airlines and four dedicated cargo carriers offer domestic service from Richmond International Airport (RIC) with connecting options to points around the globe. According to the Virginia Department of Aviation, RIC activities create nearly 16,000 jobs and contribute $2.1 billion in economic activity annually to the Richmond region. To learn more, visit RIC on the web, Twitter, Facebook, Instagram, or LinkedIn.
###
Contact:
Troy M. Bell, C.M., Director – Marketing & Air Service Development/PIO
Richmond International Airport (RIC)
tbell@flyrichmond.com