Richmond International Airport Reports New All-Time Best Passenger Traffic Month
Record Established Three Months Earlier Falls with August Traffic Tally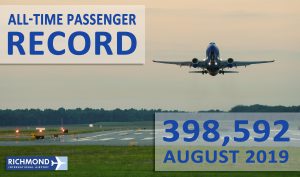 Richmond International Airport, VA (September 25, 2019) – At the monthly meeting of the Capital Region Airport Commission, Richmond International Airport (RIC) reported that August 2019 set a new, all-time, one month total passenger traffic record of 398,592, surpassing the previous mark established in May 2019 (392,263). This is the sixth occasion since October 2017 that a "best ever" monthly record has been reported by RIC.
"The milestones RIC reports month after month are only possible with the support of Richmond region flyers and the air carriers that operate here," said Capital Region Airport Commission president and CEO Perry J. Miller, AAE, IAP. "We look forward to reporting more good news soon."
Passenger Traffic
Compared to the same period a year ago, RIC reports a 4.0 percent increase in total passenger traffic (398,592 in 2019 vs. 383,272 in 2018). Delta Air Lines was the market leader in May with 35.7 percent share of passengers, followed by American and United. Four airlines reported year-over-year growth in August, including Allegiant (+28.0%), JetBlue (+15.7%), Southwest (+13.0%), and Delta (+7.1%).
Through the first eight months of calendar year 2019, passenger traffic has increased 8.2 percent.
Cargo and Operations
Total cargo, measured as the sum of freight and mail, decreased 5.0 percent to 12.3 million pounds (5,582 metric tons) from last August and is up 1.8 percent for CY19. In August, aircraft operations increased 0.3 percent (9,391 vs. 9,364) versus a year ago. For CY19 to date, operations are up 6.4 percent.
View the monthly aviation activity report here.
Financials
August operating revenues totaled $4.7 million, greater than budget by $213 thousand or five percent. Through the first two months of the fiscal year, operating revenues total $9.2 million, greater than budget by $292 thousand or three percent.
August operating expenses totaled $2.3 million, less than budget by $34 thousand or two percent. For FY20 to date, operating expenses are less than budget by three percent.
Briefs
Additional business matters arising at the September Commission meeting:
American Airlines will commence thrice-daily flights between Richmond and New York (JFK) on November 21st, providing new connecting options to top-tier West Coast and European destinations.
Per published schedules, Southwest Airlines has extended new weekend service to Tampa (TPA) and Orlando (MCO) into March 2020. Both routes launched on August 10th.
RIC has reported 23 consecutive months of record passenger traffic.
CEO Miller shared the news of the Airport receiving an $8.7 million Federal Aviation Administration (FAA) grant to help fund the conversion of Runway 7/25 to Taxiway H, as recently announced by U.S. Sens. Mark Warner and Tim Kaine.
Planning and Engineering director John Rutledge updated the Commission regarding the Virginia National Guard's plans for a future Army Aviation Support Facility at RIC as well as progress related to rezoning portions of the Airport's East Side and along Williamsburg Road.
About Richmond International Airport (RIC)
Seven major airlines offer nonstop flights from Richmond International Airport (RIC) to major domestic destinations and connecting options to points around the world. The activities of RIC and its tenants create nearly 16,000 jobs and contribute $2.1 billion in economic activity annually to the Richmond region, according to the Virginia Department of Aviation. Annually, RIC welcomes more than four million passengers. For more information, please visit www.flyrichmond.com.
###
Contact:
Troy M. Bell, C.M.
Director – Marketing & Air Service Development/PIO
tbell@flyrichmond.com
804-226-3022