Richmond (RIC) Reports May Traffic, New All-Time Record
Airport Reports Best Passenger Month Ever, Commission Names FY2020 Officer Slate and Recognizes Long-Time Contributors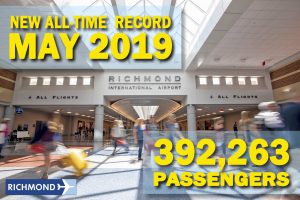 At the June monthly meeting of the Capital Region Airport Commission, Richmond International Airport (RIC) reported that May 2019 set a new single-month record of 392,263 passengers, surpassing the previous mark established in August 2018 (383,272). This is the fifth occasion since October 2017 that an all-time monthly record has been reported by the Airport.
Passenger Traffic
Compared to the same period a year ago, RIC reports a 9.7 percent increase in total passenger traffic. Delta Air Lines was the market leader in May with 32.0 percent share of passengers, followed by American and United. Six airlines reported year-over-year growth, including Allegiant (+89.9%), United (+17.8%), and American (+14.6%).
Through the first eleven months of FY2019, passenger traffic has increased 12.5 percent. May represents the 20th consecutive month of record passenger traffic at RIC.
Cargo and Operations
Total cargo, measured as the sum of freight and mail, increased 6.1 percent to 12.5 million pounds from last May and is up 3.0 percent for FY19. For the month, aircraft operations increased 5.6 percent (9,432 vs. 8,931) versus a year ago. For FY19, operations are up 5.4 percent.
View the monthly activity report here: https://flyrichmond.com/airport-information/#monthly-statistics.
Air Service Notes:
Southwest Airlines (www.southwest.com) will launch a new nonstop weekend route, Richmond-Tampa, and resume seasonal Saturday Richmond-Orlando service on August 10th.
American Airlines (www.aa.com) will add three daily flights between Richmond and New York (JFK) starting November 21st; the new route compliments existing RIC-LaGuardia service with American and provides connecting options to top-tier West Coast and European destinations.
Financials
May operating revenues totaled $4.8 million, greater than budget by $525 thousand or 12 percent. Year-to-date operating revenues total $48.2 million, greater than budget by $5.4 million or 13 percent. May operating expenses totaled $2.2 million, greater than budget by $53 thousand or two percent.
Additionally, the Commission closed 23 capital projects that had carried a total budget of $27.7 million. The projects ranged from the construction of compressed natural gas stations and vehicle acquisition to automatic door replacements, apron and taxiway rehabilitation to terrazzo refinishing.
Additional Matters
Additional items discussed at the monthly Commission meeting included:
The Commission approved the following slate of nominees to serve as officers for FY20, effective July 1, 2019:
Chairman: Patricia O'Bannon (Henrico)
Vice-Chairman: Wayne Hazzard (Hanover)
Secretary: Leslie Haley (Chesterfield)
Treasurer: Robert F. Norfleet, Jr. (Richmond)
The Commission authorized its president and CEO to execute a lease between Sheetz, Inc., a Pennsylvania corporation, and the Commission for a 5.88 acre parcel located at the southwest corner of the intersection of South Airport Drive and Audubon Drive. The initial lease term is 20 years.
Douglas E. Blum, the Commission's Chief Financial Officer and Chief Operating Officer, was recognized for exemplary service over the course of a 22-year career at the Airport. He has announced his retirement effective June 30th.
Folger Tuck, Foreman for RIC's Auto and Equipment Maintenance department, was recognized for 35 years of service to the Commission.
About Richmond International Airport (RIC)
Now you're going places with Richmond International Airport (RIC). Seven major airlines offer nonstop flights to major domestic destinations and connecting options to points around the world. The activities of RIC and its tenants create nearly 16,000 jobs and contribute $2.1 billion in economic activity annually to the Richmond region, according to the Virginia Department of Aviation. In 2018, the Airport welcomed more than four million passengers. For more information, please visit www.flyrichmond.com.
###
Contact:
Troy M. Bell, C.M.
Director – Marketing & Air Service Development/PIO