Richmond (RIC) Sets New All-Time Monthly Passenger Record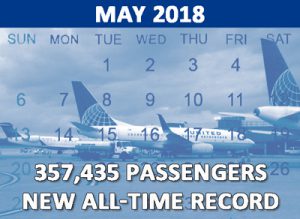 Richmond International Airport, VA (July 2, 2018)

Richmond International Airport (RIC) reports that May 2018 set a new, all-time, one month total passenger traffic record of 357,435, surpassing the previous mark established seven months ago in October 2017 (342,055).

Passenger Traffic
For May 2018, RIC reports a 13.0 percent increase in total passenger traffic versus the same period a year ago. With regards to market share, Delta Air Lines was the leader in May with a 34.3 percent share of passengers, followed by American and United. All incumbent air carriers reported year-over-year growth, including United (+11.4%), American (+10.2%), JetBlue (+9.8%), Southwest (+7.7%), and Delta (+6.4%). For the calendar year to date, passenger traffic has increased 9.3 percent to 1,535,392.

Cargo and Operations
Total cargo, measured as the sum of freight and mail, increased 7.0 percent to 11.83 million pounds from last May and is up 2.7 percent for the calendar year. In May, aircraft operations increased 9.8 percent from last year, with general aviation (up 18.3 percent) and air carrier operations (up 15.4 percent).The monthly aviation activity report may be viewed here.

Air Service Notes:
Several June route enhancements are now in effect, including:

Financials
May operating revenues totaled $4.4 million, greater than budget by $376 thousand or ten percent, with gains in parking and concession revenue reporting higher than expected. Year-to-date operating revenues total $43.3 million, greater than budget by $1.5 million or four percent.

May operating expenses totaled $2.3 million, greater than budget by $251 thousand or 13 percent. For the fiscal year-to-date, operating expenses are under budget by less than one percent.

Additional Matters
Additional matters discussed at the June 26, 2018, monthly meeting of the Capital Region Airport Commission meeting included:
Authorized the president and CEO to negotiate and execute a written construction agreement with Branscome Inc. for the construction of the East Side General Aviation (GA)/Cargo Ramp I Project. Branscome submitted a bid price of $7,612,702.40 for the project.
Conducted a public hearing and adopted Amended and Restated Rules and Regulations Regarding Conduct and Activities on the Property of the Capital Region Airport Commission ("Rules and Regulations"). Specifically, the Commission amended the provisions of Part I – Definitions and Part II – General to revise the Commission's standards and regulations for the solicitation of funds, distribution of literature, picketing, marching, demonstrations, and other expressive activity as well as certain clarifications and grammatical and pagination changes with respect to the entire Rules and Regulations.
The Commission approved the slate of officers for FY19, including
– Aubrey M. Stanley, Chairman (Hanover County)
– Patricia S. O'Bannon, Vice Chairman (Henrico County)
– Leslie Haley, Secretary (Chesterfield County)
– Charles S. Macfarlane, Treasurer (City of Richmond)
About Richmond International Airport (RIC)
Richmond International Airport (RIC) is one of the most modern and well-equipped airports in the eastern United States. Scheduled service from RIC offers nonstop flights to major domestic destinations and connecting options to points around the globe. Annually, more than 3.6 million passengers travel through RIC. For more information, please visit flyrichmond.com.
###
Contact:
Troy M. Bell, C.M.
Director – Marketing & Air Service Development/PIO
tbell@flyrichmond.com
804-226-3022