RIC's Value Season Air Travel Tips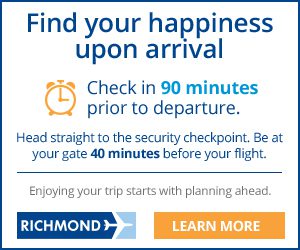 Richmond International Airport, VA (September 19, 2019) – Enjoying your next trip starts with planning ahead and Richmond International Airport (RIC) wants to make sure that you and your family get a fair shake when you take to the skies.
That's why RIC offers some important things to remember before you take your next flight:
Arrive at the airport early. Factoring in drive time, airport parking, lines at the ticket counter and security checkpoints mean it's a good idea to be an early bird when traveling by air. RIC urges customers to utilize the 90/40 rule when traveling this season; specifically, be in the terminal and checked in 90 minutes before your flight, then proceed directly to the security checkpoint and plan to be at your departure gate at least 40 minutes prior to your departure.
Keep a close eye on your belongings. Be aware of your surroundings and keep a close watch over tickets, wallets, purses, and other belongings. Thieves don't take vacations; but they can ruin yours.
Unpack your bag before you pack it – at home. By unpacking your bag fully and re-packing it before arriving at the airport, you will avoid bringing items to the airport that are prohibited past the security checkpoint. This includes knives; firearms, firearm parts and ammunition; stun guns; and martial arts items. Use the "What Can I Bring" feature available on the TSA.gov website to help determine if an item is allowed in a carry-on bag or if it needs to be checked.
Pack smart. Place medicine, jewelry, cameras and other valuable items in your carry-on baggage.
Liquids, Gels & Aerosols: Security regulations limit the amount of gels and liquids passengers can take through security in carry-on luggage. Keep travel-size toiletries to 3.4 ounces or less that fit comfortably in 1 quart-size, clear plastic zip-top bag with 1 bag per passenger. Not sure if an item can be brought onto the plane in your carry-on luggage? Use this "What can I Bring" online tool provided by the TSA.
Know your limits. Pack light and know baggage limits. Many airlines now charge for checked luggage and charge extra for overweight bags. Some even charge for carry-on. Check with your air carrier before you pack.
Traveling with food and gifts. When it comes to bringing items through checkpoints, traveling with food or gifts can be a challenge. Not sure about what you can and can't bring through the checkpoint? TSA provides a list of liquid, aerosol and gel items that you should put in your checked bag, ship ahead, or leave at home if they are above the permitted 3.4 oz.
Electronics. At the security checkpoint, you will be asked to remove personal electronic devices larger than a cell phone from your carry-on bag and place them into a bin with nothing placed on or under them for X-ray screening. Common examples of these devices include laptops, tablets, e-readers and handheld game consoles.
Taking children through security. The TSA asks that you take infants and children out of baby carriers and strollers and take them through the metal detector. Strollers and baby carriers go through the X-ray machine with your bags. If possible, collapse the stroller before arriving at the metal detector. Get more TSA tips for traveling with children under the age of 12.
Medical conditions or special needs. The TSA website provides some helpful information about what to expect at the security checkpoint if you are traveling with a disability or medical condition. You can also call TSA Cares toll free at 855-787-2227 if you or a family member with a disability or medical condition have questions about screening policies, procedures and what to expect at the security checkpoint.
Keep moving with TSA Pre✓®. TSA Pre✓® is an expedited screening program that allows travelers to leave on their shoes, light outerwear and belt, keep their laptop in its case and their liquids/gels bag in a carry-on, in select screening lanes. Those eligible for TSA Pre✓® can participate at more than 200 airports, including Richmond, when traveling on a participating airline. If you are interested in enrolling in TSA Pre✓®, visit tsa.gov. Additionally, individuals who obtained TSA Pre✓® five years ago are now able to renew their TSA Pre✓® membership online.
Global Entry enrollment in Richmond. Global Entry members bypass the traditional Customs and Border Protection (CBP) inspection lines and use an automated kiosk to complete their admission to the United States. The Richmond enrollment center at RIC is open Tuesday and Thursday 9:00 AM to 3:00 PM, by appointment only. The center is located at the airport's Massey Building at 5707 Huntsman Rd., Suite 104, Richmond, VA 23250.
Be nice to everyone. Courtesy will come back to you in kind from airline employees, who are far more used to grumpiness and complaints these days than compliments. It might make you feel better about your trip, too!
Now you're going places with Richmond International Airport (RIC).  Seven major airlines offer nonstop flights to major domestic destinations and connecting options to points around the world. The activities of RIC and its tenants create nearly 16,000 jobs and contribute $2.1 billion in economic activity annually to the Richmond region, according to the Virginia Department of Aviation. In 2018, the Airport welcomed more than four million passengers. For more information, please visit www.flyrichmond.com.
###