Soon, Going to and from Charleston, New Orleans, and Tampa Will Be a "Breeze"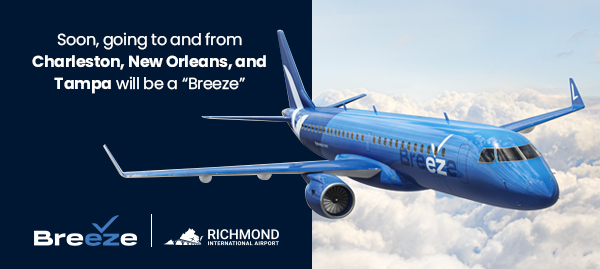 Richmond International Airport (RIC) is about to get a whole lot cooler. We're excited to announce that RIC is one of 16 airports selected to join the inaugural network of Breeze Airways, the new "Seriously Nice" U.S. carrier from David Neeleman, who previously founded JetBlue, Brazil's Azul, Canada's WestJet, and Utah-based Morris Air, which was later purchased by Southwest Airlines.
"Being chosen for the historic launch of Breeze Airways means serious perks for RIC travelers, who will soon be able to enjoy nonstop flights to Charleston, New Orleans, and Tampa," said Capital Region Airport Commission chair Patricia O'Bannon.
Breeze will commence service from Richmond starting July 8, 2021.
"Richmond International Airport looks forward to welcoming Breeze," said Commission CEO and president Perry J. Miller, A.A.E., I.A.P. "Great news like this presents tremendous opportunities to the communities we serve, including competitive fares, easy access to more destinations, and the ability to readily invite friends and loved ones to see all that the Richmond Region has to offer."
As vaccines become more readily available, COVID-19 cases decline, and social restrictions ease nationwide, there has perhaps never been a more exciting time to explore new cities, visit old friends, and reconnect with loved ones. Plus, with Breeze Airways' low-cost fares and high-flex offerings like no change or cancellation fees, travel will be possible for a lot more people.
Want to know more? Visit FlyBreeze.com for info and to book your flights today.