Southwest Launches Service to Chicago (Midway), Denver's Next
New Flights Arrive "Just in Time" for Spring and Summer Trips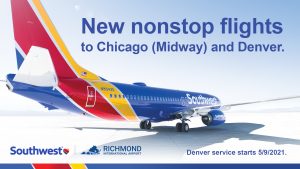 Following the April 12th launch of Southwest Airlines service from Richmond (RIC) to Chicago Midway (MDW), attention now shifts to May when the airline will inaugurate new nonstop service to Denver (DEN).
"With flights to Chicago (Midway) starting in April and Denver flights on track for a May 9 inauguration, RIC enthusiastically welcomes the expansion of Southwest Airlines service from the Richmond region," said Perry J. Miller, A.A.E., I.A.P., president and CEO of the Capital Region Airport Commission. "Air travelers are gaining attractive options to two of our most popular destinations just in time for spring and summer trips."
As vaccine availability increases across the country and more travelers begin searching for their next great escape, these new flights give Richmond Region passengers even more convenient options for reaching spectacular destinations and major points of connection. Midway is one of Southwest's busiest hubs, with over 200 daily departures. The popularity of the airline is similar in Denver, where it now has 24 gates and plans to add 16 more.
Chicago was Richmond's 6th-most popular destination before the pandemic with more than 170,000 travelers flying between the two cities in 2019. RIC-Midway service starts at five trips per week (daily except Tuesday and Wednesday) and will increase to daily frequency in May.
Southwest's Denver service from Richmond will be daily. Denver (DEN) is Richmond's 8th-most popular destination. The airline currently offers service between Richmond and Atlanta, as well as seasonal service to Orlando and Tampa.
For more information about new options and competitive fares to Chicago (Midway) or Denver or beyond, visit southwest.com today.
About Richmond International Airport
Seven major airlines offer nonstop flights from Richmond International Airport (RIC) to major domestic destinations and connecting options to points around the world. Airport activities create nearly 16,000 jobs and contribute $2.1 billion in economic activity annually to the Richmond region, according to the Virginia Department of Aviation. The airport is owned and operated by the Capital Region Airport Commission, a political subdivision of the Commonwealth of Virginia. For more information, please visit the airport's website.
###
Contacts:
Troy M. Bell, C.M.
Director – Marketing & Air Service Development/PIO
Richmond International Airport (RIC)
tbell@flyrichmond.com