Virginia Green Recognizes RIC's Sustainability Efforts
RIC Works to Protect the Environment and Support Sustainable Tourism in Virginia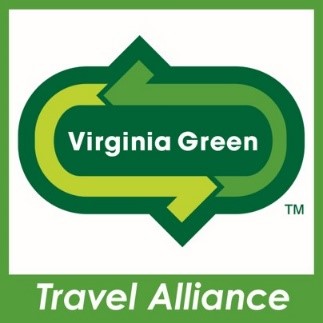 At the 9th annual Virginia Green Travel Conference held this week in Richmond, the Virginia Green Travel program recognized 20 Virginia tourism businesses, including Richmond International Airport (RIC), and seven individuals for their outstanding efforts to protect the environment and support green tourism in Virginia.
"Conserving natural resources, engaging customers, and working to increase sustainable tourism business in Virginia. The Virginia Green Travel Certification program works to support and promote those businesses that are committed to reducing the environmental impacts of their operation," says Tom Griffin, the Executive Director of the Virginia Green Travel Alliance. "The Virginia Green Travel Star Awards recognizes the businesses and individuals that have demonstrated outstanding commitments to the environment in the past year. We are proud to recognize the Capital Region Airport Commission as a true partner in our efforts to promote sustainable tourism in Virginia!"
The Capital Region Airport Commission, owner and operator of Richmond International Airport, received the Virginia Green Travel Leader Award for its concerted efforts to reduce its environmental impacts. The Airport specifically focused on its recycling program, including the purchase and placement of upgraded collection containers along Terminal Drive. In 2021, collections saved more than 33 tons of recyclable materials from going to landfills.
"RIC is committed to conserving resources and being an environmentally responsible partner to the community we serve," said Perry J. Miller, A.A.E., I.A.P., president and CEO of the Airport Commission. "The Airport, certified as a Virginia Green Travel Partner since 2015, continually reviews operations for innovative approaches to sustainability and efficiency."
About Richmond International Airport (RIC)
Richmond International Airport's vision is to move people, business, and commerce to advance the Richmond region. To that end, eight major passenger airlines and four dedicated cargo carriers offer domestic service from Richmond International Airport (RIC) with connecting options to points around the globe. Airport activities create nearly 16,000 jobs and contribute $2.1 billion in economic activity annually to the Richmond region. To learn more, visit RIC on the web, Twitter, Facebook, Instagram, or LinkedIn.

About Virginia Green
The Virginia Green Travel program is run through a partnership between the Virginia Department of Environmental Quality, the Virginia Tourism Corporation, Virginia State Parks, the Virginia Restaurant, Lodging & Travel Association, and the Virginia Green Travel Alliance. The program encourages green practices in all sectors of Virginia's tourism industry. More than 1,200 businesses and partner organizations have voluntarily certified their green commitments through Virginia Green. For more information, please visit Virginia Green Travel on the web.
###
Contact:
Troy M. Bell, C.M.
Director – Marketing & Air Service Development/PIO
Richmond International Airport (RIC)
tbell@flyrichmond.com