Braxton Congrove's VMFA Fellowship Program "TTYL" Exhibition Opens at RIC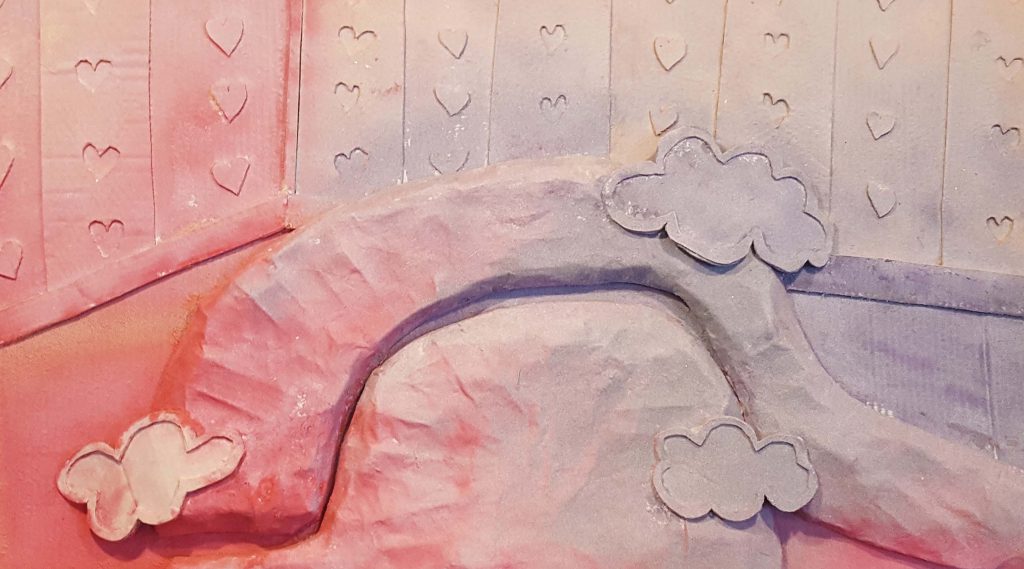 Richmond International Airport, VA (February 6, 2019) – An exhibition of sculptures by Richmond-based artist Braxton Congrove, called "TTYL," opened in February at Richmond International Airport (RIC). The show will be on view in the first level of the terminal through July 2019.
Congrove's sculptural world depicts playful narratives alluding to adolescence. Forms are recognizable but distorted, creating a confusion that weaves between the body and interior spaces. Employing systems based in craft practices, she uses flocking fibers and papier mache to compose dually hard and soft works. The distinctly fuzzy candy colored surfaces of these objects entice the viewer to come closer, as if taunting not to touch. Images are shrunken, enlarged, multiplied, and recoated in velvety textures, creating an augmented reality that feels like a child's drawing of a room. Together, this surreal collection of objects works as a comfort space. Congrove's practice relies on the proposition of play in order to generate naive and humorous sculptural objects.
Congrove lives and works in Richmond, VA. She received her BFA from James Madison University and attended the Virginia Commonwealth University Summer Studio Program in sculpture. Congrove is a two-time recipient of the Virginia Museum of Fine Arts Fellowship, having received an undergraduate Fellowship in 2014 and a professional Fellowship in 2018.
2015 marked the 75th anniversary of VMFA's Fellowship Program. This exhibition is a celebration not only of this landmark but also a celebration of this selected VMFA fellow who has made impressive contributions to the arts in Virginia.


About Richmond International Airport (RIC)
Richmond International Airport (RIC) is one of the most modern airports in the eastern U.S. Seven major airlines offer nonstop flights to major domestic destinations and connecting options to points around the world. Annually, the Airport welcomes more than four million passengers. According to the Virginia Department of Aviation, the activities of RIC and its tenants create nearly 16,000 jobs and contribute $2.1 billion in economic activity annually to the Richmond region. To learn more, please visit www.flyrichmond.com.
About the Virginia Museum of Fine Arts (VMFA)
The Virginia Museum of Fine Arts in Richmond, Virginia, is one of the largest comprehensive art museums in the United States. VMFA, which opened in 1936, is a state agency and privately endowed educational institution. Its purpose is to collect, preserve, exhibit and interpret art, and to encourage the study of the arts. Through the Office of Statewide Partnerships program, the museum offers curated exhibitions, arts-related audiovisual programs, symposia, lectures, conferences and workshops by visual and performing artists. In addition to presenting a wide array of special exhibitions, the museum provides visitors with the opportunity to experience a global collection of art that spans more than 6,000 years. VMFA's permanent holdings encompass nearly 40,000 artworks, including the largest public collection of Fabergé outside of Russia, the finest collection of Art Nouveau outside of Paris, and one of the nation's finest collections of American art. VMFA is also home to important collections of Chinese art, English silver, and French Impressionist, Post-Impressionist, British sporting and modern and contemporary art, as well as renowned South Asian, Himalayan and African art. In May 2010, VMFA opened its doors to the public after a transformative expansion, the largest in its history. For additional information, visit www.vmfa.museum.
CONTACTS:
Virginia Museum of Fine Arts
Sara Mazzullo
(804) 204-2685
sara.mazzullo@vmfa.museum
Richmond International Airport
Troy M. Bell, C.M.
(804) 226-3022
tbell@flyrichmond.com