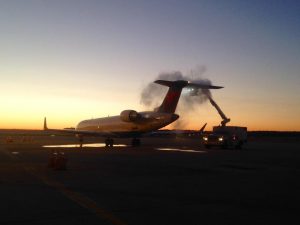 Richmond International Airport, VA (November 12, 2019) – Since winter months offer potential for snow, sleet, freezing rain and/or ice, you can help to make your trip go as smoothly as possible by checking with your airline – via its website or mobile app – regarding your flight status prior to leaving for the airport.
Passengers should have the confirmation and phone numbers to all airlines, hotels and rental car agencies they may be using in preparation for potential weather-related disruptions.
Also, the Transportation Security Administration has a downloadable app (called MyTSA) for mobile devices that tracks airport delays, offers travel tips, and posts security checkpoint wait times.
In the event of inclement weather, air carriers may issue change fee waivers to allow rescheduling to alternate dates. To review policies in effect, visit your air carrier's website:
Allegiant – www.allegiantair.com
American Airlines – www.aa.com
Delta Air Lines – www.delta.com
JetBlue Airways – www.jetblue.com
Southwest Airlines – www.southwest.com
Spirit Airlines – www.spirit.com
United Airlines – www.united.com
If you do plan to travel, the Virginia Department of Transportation (VDOT) suggests allowing extra time to travel to your destination. For the latest roadway conditions in Virginia, please visit VDOT's travel center website.
CONTACT:
Troy M. Bell, C.M.
tbell@flyrichmond.com